Serves: 6 | Prep Time: 20 minutes | Cook Time: 1 hour 5 minutes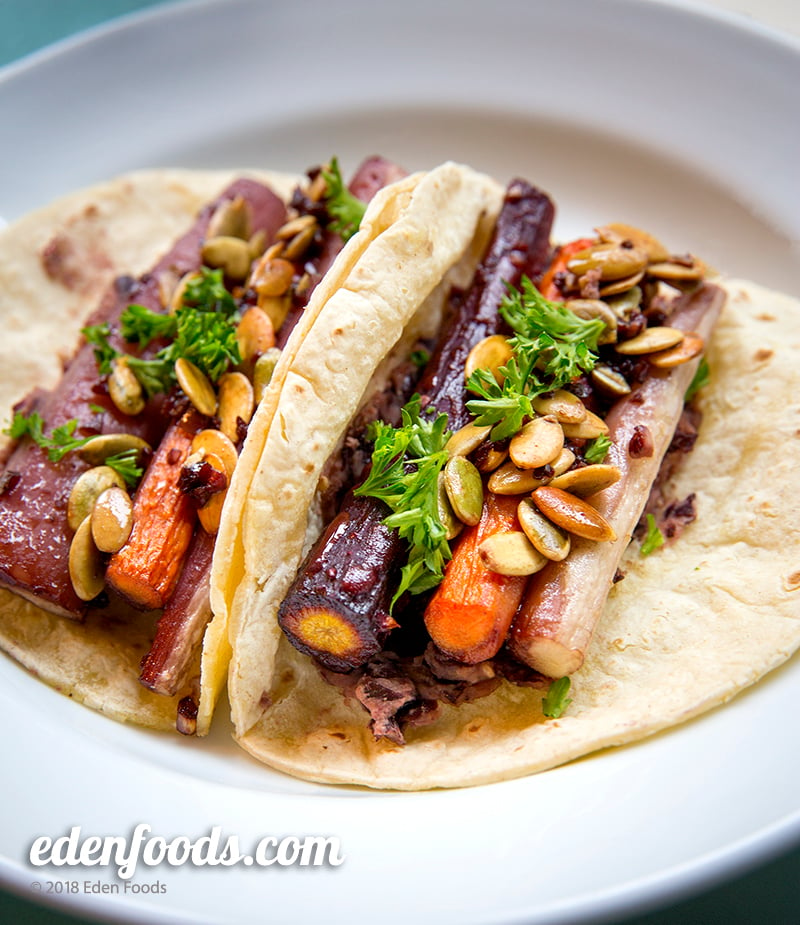 Ingredients
Marinade
Vegetables
1/2 pound any type whole carrots, sliced in thirds or halved depending on their size

2 cup shredded cabbage
Bean Puree
Directions
Preheat oven to 400° F. Trim the carrots and cut into thirds. Place the carrots and cabbage in a baking dish.

To make the marinade, whisk together the olive oil, grape juice, vinegar, garlic and 1/4 tsp sea salt. Pour the marinade over the vegetables.

Cover and bake for 30 minutes. Remove cover and bake for another 30 minutes until carrots are tender and most of the marinade has evaporated. Remove and set aside.

Place half the beans in a small mixing bowl and mash with a fork until a paste. Mix the remaining whole beans, lime juice, cumin and a pinch of sea salt in with the mashed beans.

Place the corn tortillas on a baking dish. Spread the bean mixture evenly over the tortillas. Place an equal amount of baked carrots and cabbage on each tortilla. Sprinkle pumpkin seeds on top and bake for 3 to 5 minutes. Remove and garnish with chopped parsley.

Variation: For a cheesy kick, sprinkle with Eden Tofu Feta and sprinkle a little Eden Garlic Gomasio over.
---
Nutritional Information
Per serving - 309 calories, 20 g fat (55% calories from fat), 6 g protein, 30 g carbohydrate, 6 g fiber, 0 mg cholesterol, 153 mg sodium
---
Related Recipes