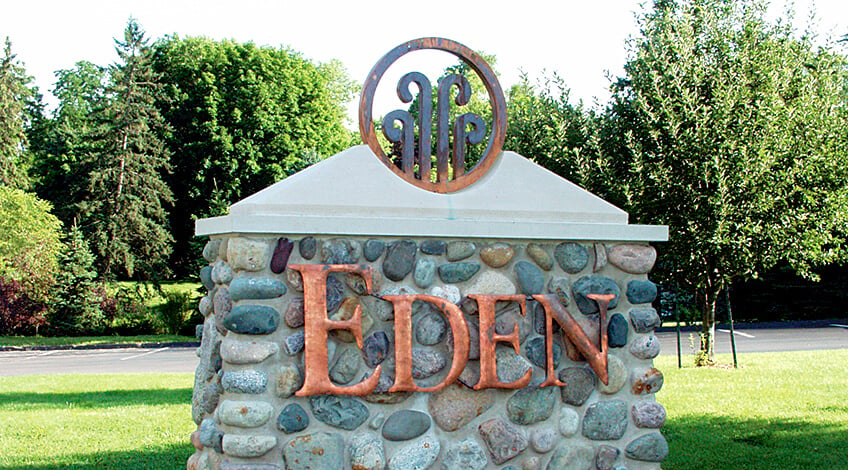 Beginnings
Eden Foods began in southern Michigan in the late 1960s amongst friends sourcing natural food. Youth motivated by study of a worldwide phenomenon stemming from macrobiotics; the centering of ones eating around whole grain and seasonal local plant foods that are not toxic chemical adulterated or nutrient depleted.
Excellent & Persistent
A principled natural food company. Unfortunately, organic food no longer has to be natural.
The finest food that can be procured and shared, from growers and handlers we know and trust.
Full transparency of source, growing, and handling
of food and ingredients.
Pure & Purifying great tasting food.
Bean cannnery is British Retail Consortium (BRC) certified.
All Eden facilities receive AIB International's highest food safety rating.
Passionate, and independently guided since 1968.
Natural foods were simply not available at the time, so an Eden Foods Co-op was started to acquire them. Initial $200 orders to Erewhon in Boston and Chico-san in California were well received and caused a local stir. This lead to co-op members traveling rural roads, knocking on doors, looking for farmers to grow food using organic methods.
The Eden co-op grew into a natural food store offering whole grains, beans, soyfoods, sea vegetables, miso, cereals, unrefined vegetable oils, seed and nut butters, and the like. It expanded adding a cafeteria, bakery, and books which became known as the Eden Deli. It was one of very few places in the U.S.A. where you could get natural, organic, macrobiotic food.
Folks came from near and far. Health food stores called asking to get the foods we were carrying. An EDEN brand began to take shape.
In 1972 Eden opened its first warehouse and established relations with artisan Japanese traditional food makers. Imports of sea vegetables, teas, miso, shoyu, umeboshi plums, kuzu root starch, rice vinegar, rice bran pickles, mirin, etc. followed. This solidified Eden as an important natural food source for the United States and Canada.
Gradual Development Since 1968
Eden Foods is the oldest natural and organic food company in North America, and the largest remaining independent manufacturer of dry grocery, organic food. We are the major purveyor of Japanese traditional, macrobiotic foods.
Over 94% of Eden foods are sold in natural food stores, co-ops, and supermarkets via traditional natural and grocery distribution channels. Web site, employee, and wholesale sales make up the remainder.
Our two warehouses handle all the food we distribute - Clinton, Michigan or Fremont, California.
Recent building expansions were designed, constructed, and operate following our commitment to harmonious growth and follow 'Leadership in Energy and Environmental Design' (LEED) principles. 80% recycled steel locally forged was used, LED lights, insulation, native flora, and good-neighbor landscaping respect our very close residential neighbors. This warehouse meets a gold LEED certification level, the second highest possible rating.
Eden tracks the environmental impact of its food upstream from suppliers, through company operations, and downstream, monitoring all its social impacts. Energy efficiency and waste avoidance are tracked using custom in-house tools.
In 2009 Eden Foods was selected as the best food company in the world, and the third best company overall by The Better World Shopping Guide. They honored Eden Foods' admirable record in social and environmental responsibilities. The company earned A+ and A ratings in ten food categories. This is further explained at edenfoods.com/betterworld.
Local Food Focus
Eden buys its food from, and pays farmers directly, getting them the maximum food dollar. Most is grown a few miles to a few hundred miles from home base. Wild rice, colored beans, spelt, soybeans, cabbage, apples, tart cherries, strawberries, and pastry wheat are Midwestern. Other North American family farm organic foods include grain and popcorn from the Western high plains and Midwest; almonds, pistachios, and brown rice are from California; flax and mustard seed are from Saskatchewan; dulse is from New Brunswick; sauerkraut cabbage from Ohio... see the Map below.
Eden prepares 75% of its items at headquarters: fresh milled whole grain flours, gomasio sesame salt, unrefined vegetable oil, vinegar, soy sauce, roasted nuts and seeds, packaged snacks, whole grain, sea salt, popcorn, and other grain. EDENSOY is made twelve miles east at American Soy Products, a company Eden founded to bring the making of EDENSOY from Japan to the U.S.A. Eden Organic Pasta Company is in Detroit. Meridian Foods cannery of organic beans, refried beans, rice & beans, and chilies is in east-central Indiana. EDEN organic udon and soba noodles are made at Sobaya Company in Montréal, PQ.
Some Eden food comes from afar - Spanish extra virgin olive oil, high altitude white and red quinoa from the Andes mountains, tomatoes from Italy, chamomile from Egypt, and green tea and traditional foods from Japan. The soybeans in our miso and soy sauces are Non-GMO, U.S.A. Midwestern organic.
Dynamic Network