Serves: 4 | Prep Time: 15 minutes | Cook Time: 5 minutes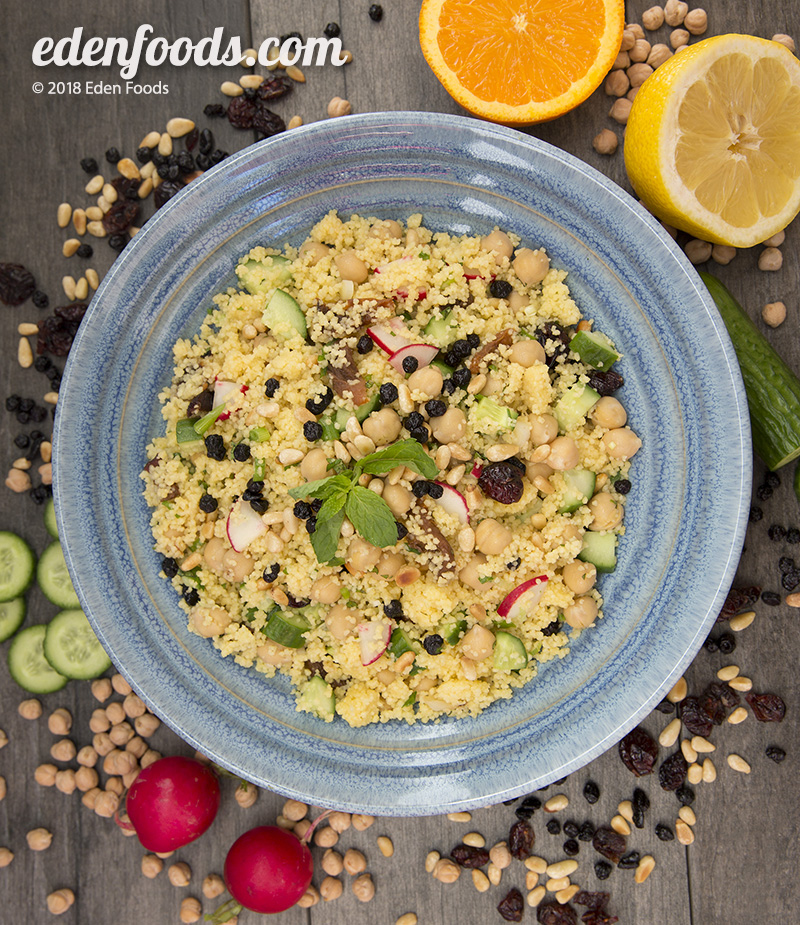 Ingredients
1 1/2 cup organic couscous
or E

den

Quinoa

1 1/2 cup orange juice, freshly squeezed

1 pinch E

den

Sea Salt
1/2 cup E

den

Garbanzo Beans, drained

1/4 cup pine nuts, lightly dry pan roasted

1/4 cup Turkish apricots, coarsely chopped
or 1/4 cup E

den

Dried Apricots simmered in 1/2 cup E

den

Apple Juice until just tender, about 7 to 10 minutes
1/2 cup E

den

Dried Wild Blueberries
or E

den

Dried Cranberries

1 small cucumber, seeded, quartered and sliced

1/2 cup scallions, finely chopped

2 whole red radishes, cut in quarters and slice thin

2 Tbsp E

den

Red Wine Vinegar
2 Tbsp E

den

Extra Virgin Olive Oil

1/4 cup lemon juice, freshly squeezed

1/4 cup orange juice, freshly squeezed

1/4 cup fresh mint leaves, chopped fine
Directions
Place the orange juice and salt in a medium saucepan and bring to a boil. Stir in the couscous, bring to a boil, cover and turn off the flame. Allow the couscous to sit and steam for about 5 minutes with the cover on.

Place the garbanzo beans, pine nuts, apricots, blueberries or cranberries, cucumber, scallion and red radish in a mixing bowl. Combine the vinegar, oil, lemon juice, 1/4 cup orange juice and mint in a jar. Cover and shake to mix.

When the couscous is done, fluff to cool and place in the mixing bowl with the garbanzo beans and vegetables. Pour the dressing over and toss to evenly mix. Place in a serving bowl.

NOTE: Eden Quinoa can be substituted for couscous, but the cooking time will be increased. When the juice comes to a boil, add the quinoa and salt. Cover, bring to a boil and simmer on low for 12 minutes. When done, toss to cool and fluff. Combine with all other ingredients and dressing as directed in the recipe. If Eden dried fruit is not available, organic currants or raisins can be substituted.
---
Nutritional Information
Per serving - 525 calories, 13 g fat (22% calories from fat), 14 g protein, 90 g carbohydrate, 9 g fiber, 0 mg cholesterol, 65 mg sodium
---
Related Recipes