Serves: 6 | Prep Time: 15 minutes | Cook Time: 30 minutes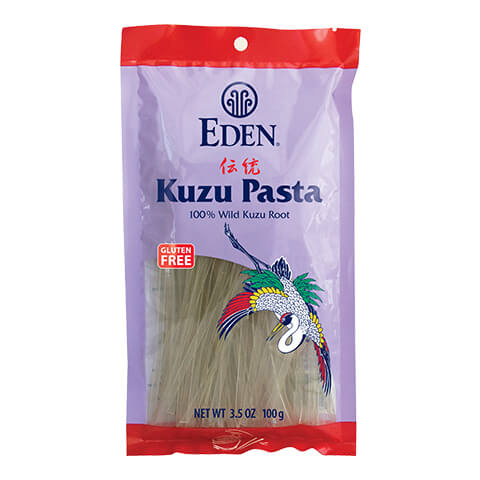 Ingredients
3 1/2 ounces E

den

Kuzu Pasta, 1 package
2.4 ounces E

den

Mung Bean Pasta (Harusame), 1 package
1/4 cup E

den

Sliced Shiitake Mushrooms
1/4 piece E

den

Kombu, 3 inches long

1/2 pound organic extra firm tofu

E

den

Safflower Oil, for deep-frying the tofu

2 cup Chinese cabbage, sliced

1/2 cup carrots, julienned

1/4 cup E

den

Dried Lotus Root, cooked for 15 minutes in water just to cover

1/2 cup water chestnuts, water packed, drained, sliced in quarters

1 Tbsp fresh ginger root, finely grated

1 Tbsp E

den

Brown Rice Vinegar
1 sheet E

den

Sushi Nori, cut into 1 inch squares

1/4 cup scallions, finely chopped

4 cups water, for the broth

1/2 tsp E

den

Sea Salt
1/2 tsp E

den

Hot Pepper Sesame Oil, for garnish
1/4 cup E

den

Bonito Flakes, crumbled for garnish, optional
Directions
Place two quarts of water in a medium saucepan, cover and bring to a boil. Remove the cover and add the Kuzu Noodles. Cook for 6 minutes. Add the Mung Bean Pasta to the pot and continue cooking another 4 minutes. Remove, rinse, drain and set aside.

Place 1 inch of oil in deep-frying pot or wok and heat up. Slice the tofu into four 1/4 inch slices and deep-fry until golden and crisp on both sides. Remove and drain on paper towels. Slice the tofu into 1 inch cubes or thin strips and set aside while you prepare the broth.

Place 4 cups water, the kombu and sliced shiitake in a medium saucepan, cover and bring to a boil. Reduce the flame to medium-low and simmer 4 minutes. Remove the kombu and discard. Add the sea salt and simmer 5 minutes. Add the fried tofu, carrots, lotus root and water chestnuts. Simmer uncovered for 5 minutes. Season with shoyu and add the vinegar, cooked noodles and Chinese Cabbage. Take the grated ginger in your hands and squeeze out the ginger juice into the pot. Discard the pulp. Turn the flame to low and simmer uncovered for 1 to 2 minutes. Turn the flame off, ladle into individual bowls and garnish each bowl with equal amounts of nori, bonito flakes, scallions and a dash of Eden Hot Pepper Sesame Oil. Serve hot.
---
Nutritional Information
Per serving - 174 calories, 3 g fat (15% calories from fat), 6 g protein, 29 g carbohydrate, 3 g fiber, 0 mg cholesterol, 200 mg sodium
---
Related Recipes