Serves: 6 | Prep Time: 20 minutes | Cook Time: 10 minutes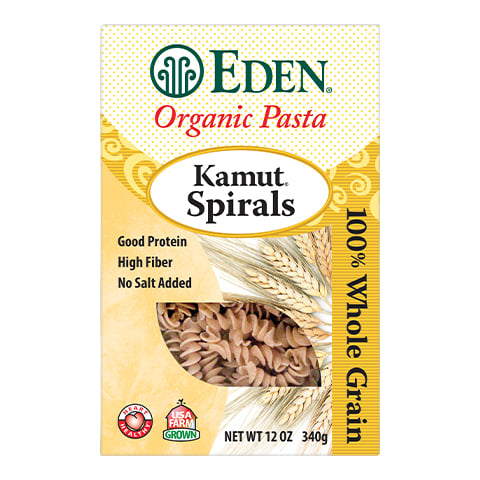 Ingredients
2 cups fresh organic tomatoes, diced

3 Tbsp lime juice, freshly squeezed

1 Tbsp E

den

Extra Virgin Olive Oil
1/2 tsp E

den

Sea Salt
2 tsp E

den

Ume Plum Vinegar, or to taste
15 ounces E

den

Black Soybeans, or Black Beans, drained

1/3 cup pitted black olives, sliced

8 ounces E

den

Kamut Spirals, or any Eden Pasta

2 cup organic sweet corn, fresh or frozen

1 1/2 cups zucchini, diced

1/2 cup fresh parsley, chopped

1/2 tsp dried cilantro, or to taste

1 Tbsp E

den

Apple Cider Vinegar
1/8 tsp E

den

Black Pepper, or to taste

2 tsp minced jalapeño
Directions
In a large bowl, combine tomatoes (with liquid), lime juice, oil, sea salt and umeboshi vinegar. Stir in drained beans, olives, parsley, cilantro, vinegar and black pepper. Mix thoroughly and set aside.

Boil pasta for 5 minutes. Place the corn and zucchini in the pot. Cook another 4 to 5 until pasta is tender but still chewy. Rinse under cold water and drain thoroughly.

Toss pasta with the corn and zucchini into the bean mixture. Mix thoroughly. Add more lime juice and sea salt, if desired. Serve room temperature or chill before serving.
---
Nutritional Information
Per serving - 301 calories, 7 g fat (21% calories from fat), 15 g protein, 47 g carbohydrate, 10 g fiber, 0 mg cholesterol, 519 mg sodium
---
Related Recipes