Serves: 6 | Prep Time: 10 minutes | Cook Time: 10 minutes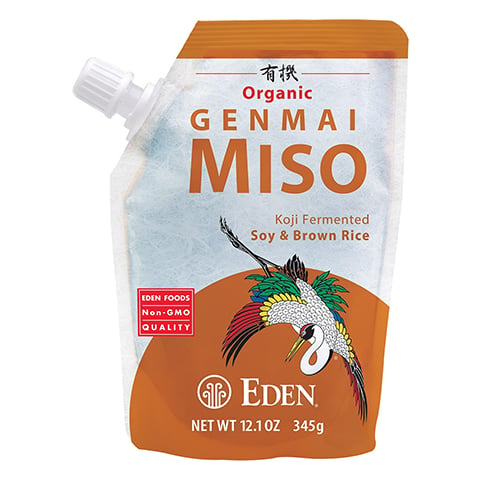 Ingredients
Dashi (soup Stock)
Soup Ingredients
1/2 cup onion, sliced

3/4 cup carrots, julienned

1/2 cup Chinese cabbage, chopped

1 Tbsp E

den

Wakame Flakes

1/2 cup organic tofu, cut into small cubes

3 Tbsp E

den

Genmai Miso

1/3 cup green onions, finely chopped
Directions
To prepare dashi, place water and kombu in a pot. Cover and bring to a boil. Turn off heat, add bonito flakes, stir, cover and allow to sit for 5 to 10 minutes. Strain the dashi to remove the kombu and bonito flakes and discard.

Place dashi back in the pot, add the onions, wakame and carrots. Simmer for 5 minutes over a medium-low flame. Puree the miso with a small amount of the dashi. Reduce the flame to low. Add the miso, Chinese cabbage and tofu. Simmer, without boiling for 2 minutes. Serve and garnish with green onions.

Shiitake mushrooms may be used in place of bonito flakes to season the dashi. Simply place 6 to 8 Eden Shiitake Mushrooms in the dashi water and cook with the kombu 5 minutes. Remove kombu and shiitake. Remove shiitake stems and discard. Discard kombu or use in another dish. Slice the caps thin and place back in the dashi before adding the vegetables.
---
Nutritional Information
Per serving - 49 calories, 1 g fat (20% calories from fat), 5 g protein, 4 g carbohydrate, 1 g fiber, 0 mg cholesterol, 501 mg sodium
---
Related Recipes