Serves: 5 | Prep Time: 30 minutes | Cook Time: 1 hour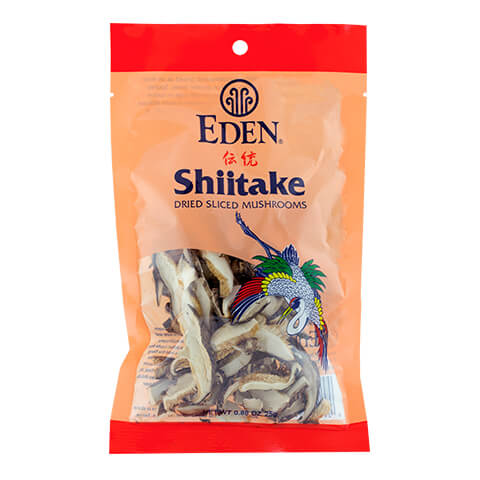 Ingredients
3/4 cup E

den

Short or Medium Grain Brown Rice, washed and drained
3/4 cup E

den

Pearled Barley, washed and drained
or whole barley
1 cup E

den

Sliced Shiitake Mushrooms, soaked 10 minutes in 1 cup warm water, reserve soaking water
1/2 cup E

den

Maitake Mushrooms, soaked 20 minutes in 1 cup hot water, reserve soaking water

2 cup onion, diced

2 Tbsp E

den

Extra Virgin Olive Oil
1/4 tsp E

den

Sea Salt
1/4 tsp E

den

Black Pepper
1/4 tsp E

den

Ground Thyme, or sage

4 cup water, including reserved mushroom soaking water

2 Tbsp fresh parsley, minced for garnish
Directions
Heat the oil in a medium saucepan and sauté the onions for 10 minutes. Add the celery and mushrooms. Sauté another 5 minutes over a medium-low flame. Remove from the flame.

Note: If using whole barley, soak overnight or 6 to 8 hours and simmer in the soaking water for about 1 hour before combining with rice.

Heat up a skillet and dry roast the rice and barley over a high flame until most of the water from washing the grain has evaporated. Reduce the flame to medium-low and dry roast 3 to 4 minutes longer. Place in a baking dish. Add the onions, celery and mushrooms. Bring the water to a boil and pour over the rice. Mix in the salt, pepper and thyme. Cover the baking dish and bake for 1 hour at 350° until the grain is tender. Remove and mix in the parsley. Serve.
---
Nutritional Information
Per serving - 305 calories, 7 g fat (19% calories from fat), 12 g protein, 53 g carbohydrate, 9 g fiber, 0 mg cholesterol, 107 mg sodium
---
Related Recipes