Serves: 8 | Prep Time: 1 hour 10 minutes | Cook Time: 12 minutes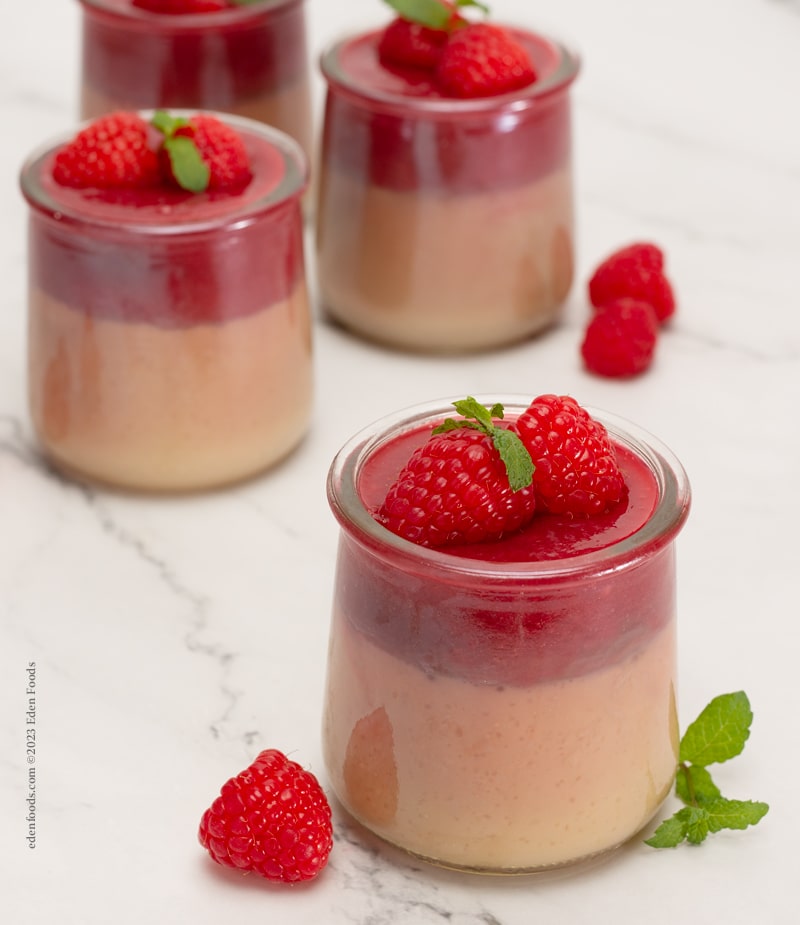 Ingredients
Custard
Raspberry Compote
2 cups fresh or frozen raspberries

1/4 cup water, (if frozen raspberries, use less water)

3 Tbsp organic maple syrup

2 Tbsp fresh lemon juice, or 1 Tbsp lemon juice concentrate

1/2 tsp organic vanilla extract

1/8 tsp lemon zest
Directions
Place the agar flakes in a bowl with 1/2 cup hot water and allow to sit 10 minutes. Place Edensoy, maple syrup, sea salt and dissolved agar flakes in a sauce pan. Bring to a boil over a high flame, stirring occasionally. Reduce the heat to low and simmer 3 minutes. Pour the kuzu into the sauce pan, stirring constantly to prevent lumping. Simmer 2 to 3 minutes. Pour the pudding into a serving dish or individual dessert cups. Allow to cool 5 minutes. Stir in the raspberries. Refrigerate for 1 to 2 hours, until firm.

To prepare the compote, place raspberries, water, maple syrup and lemon juice in a small saucepan. Cook over medium-low heat until starts to bubble. Reduce heat to low and simmer, stirring frequently until thick and the raspberries have broken down or to desired thickness. Add the vanilla and lemon zest. Stir and simmer 1 minute, remove and chill.

When the custard is firm, serve with chilled compote spooned over each serving.
---
Nutritional Information
Per serving - 178 calories, 2 g fat (9% calories from fat), 4 g protein, 38 g carbohydrate, 4 g fiber, 0 mg cholesterol, 60 mg sodium
---
Related Recipes