Serves: 4 | Prep Time: 10 minutes | Cook Time: 5 minutes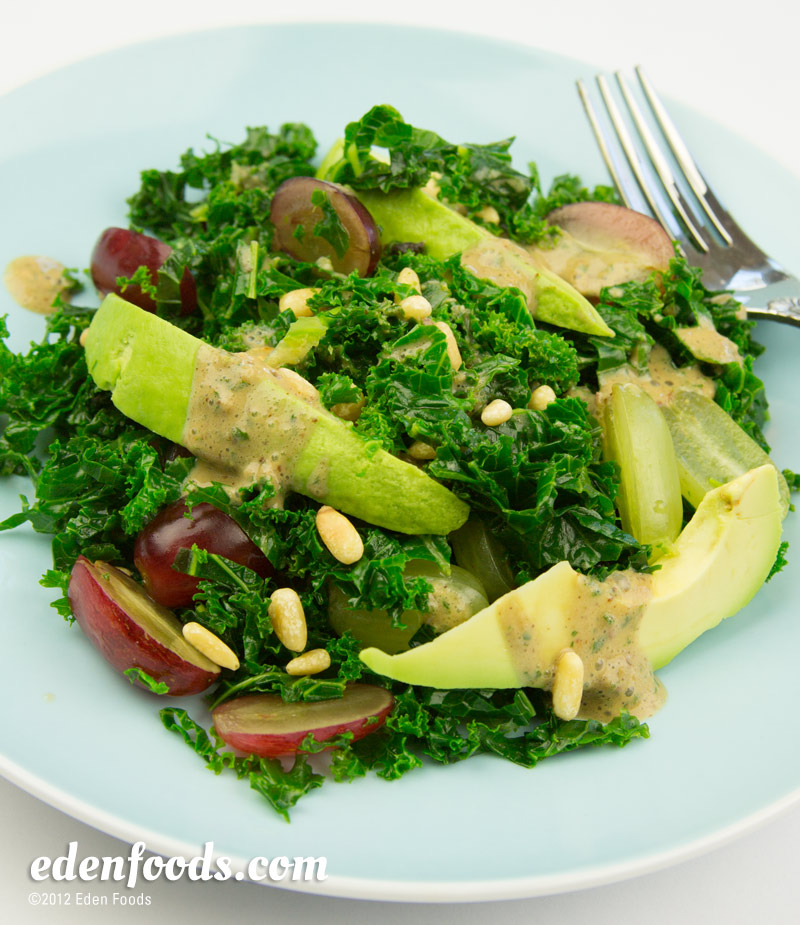 Ingredients
4 cups kale, (1 bunch) remove hard stems and discard

1 quart water, for blanching kale

1 tsp fresh lemon juice

2 pinches E

den

Sea Salt

1 cup seedless red grapes, halved

1 ripe avocado, seeded, peeled, sliced

1/4 cup pine nuts, lightly dry pan roasted
Dressing
Directions
Bring water to a boil in a medium saucepan. Add the kale and blanche 3 to 4 minutes. Remove, drain, and rinse under cold water to set the bright green color. Using a knife, slice the kale into small pieces. Place the kale in a mixing bowl and add the lemon juice and pinches of sea salt. Using you hands, massage the lemon juice and salt into the kale to help soften the leaves. Let sit while you prepare the dressing.

Place all ingredients for the dressing into a blender and pulse until creamy. Pour into a serving container.

Place the grapes in the bowl with the kale and toss. Add the avocado and gently toss. Place the salad in a serving bowl and garnish with pine nuts. Spoon the dressing over the salad before eating.
---
Nutritional Information
Per serving - 310 calories, 26 g fat (71% calories from fat), 5 g protein, 19 g carbohydrate, 3 g fiber, 0 mg cholesterol, 277 mg sodium
---
Related Recipes