Serves: 15 | Prep Time: 2 hours 10 minutes | Cook Time: 30 minutes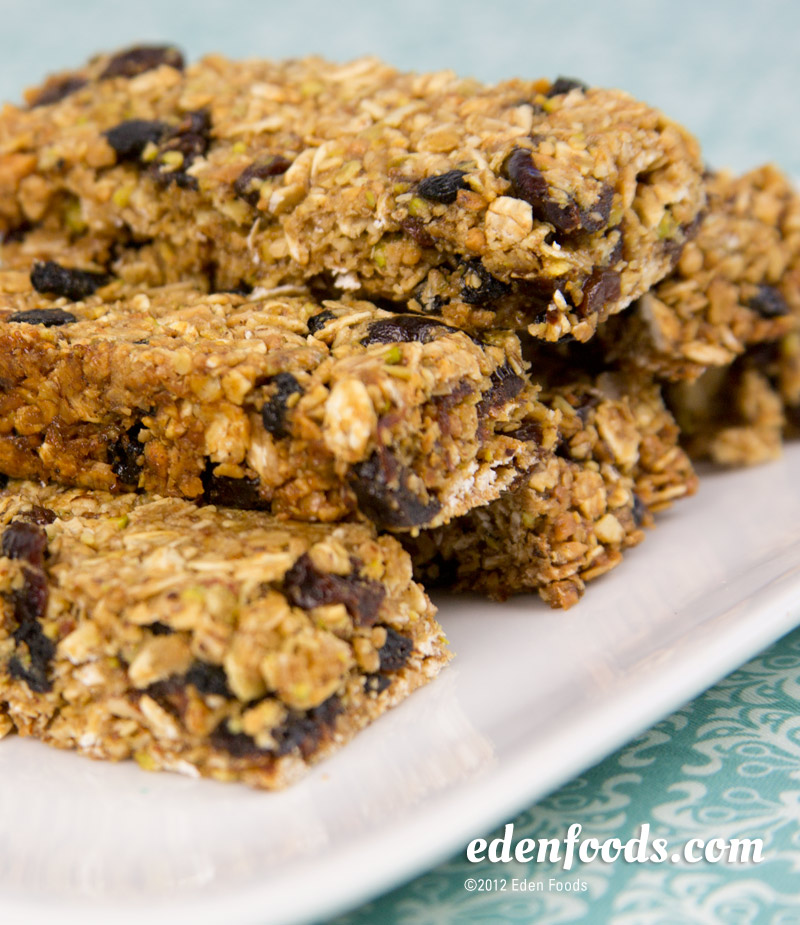 Directions
Heat a large, heavy skillet and dry roast the oats several minutes until they release a nutty fragrance and begin to brown slightly. Remove and place in a large mixing bowl.

Place the almonds in a food processor and pulse several seconds until coarsely ground. Pour into the bowl of oats. Pulse the pistachios in the processor for several seconds and pour into the bowl. Pulse the pumpkin seeds for 2 or 3 seconds and place in the bowl. Place all dried fruit in the bowl and mix thoroughly.

Place the syrup, honey and oil in a medium saucepan and bring to a boil. Reduce the heat to medium and simmer, stirring constantly for 7 minutes. As the syrup cooks, it will begin to thicken. To test for doneness, fill a measuring cup with cold water. After 5 minutes of simmering, periodically drop a small drop of syrup into the water. When done, it will form a small soft ball in the bottom of the measuring cup. When this happens, remove and add the salt and vanilla to the syrup. Stir and pour over the oat mixture. Mix to thoroughly coat.

Preheat to oven to 300°. Lightly oil an 11" x 7" baking sheet and spread the oat mixture evenly over. Moisten hands very lightly and press the oat mixture down firmly. Bake for about 30 minutes or until light golden brown. Remove from the oven and let cool for about 2 hours to harden. Slice into bars approximately 2 1/2" long by 1 1/2" wide.
---
Nutritional Information
Per serving - 228 calories, 8 g fat (32% calories from fat), 6 g protein, 34 g carbohydrate, 3 g fiber, 0 mg cholesterol, 54 mg sodium
---
Related Recipes