Serves: 35 | Prep Time: 24 hours 20 minutes | Cook Time: 0 minutes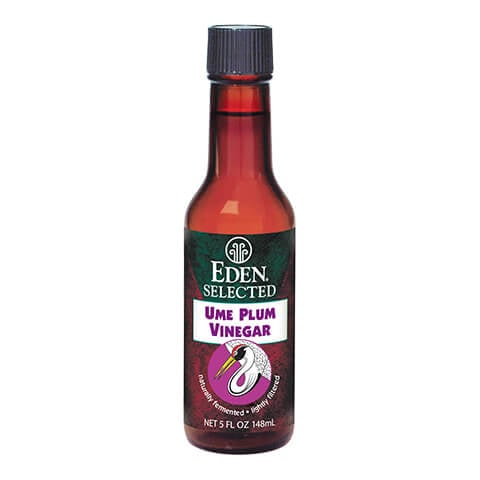 Ingredients
1 quart size canning jar, with lid

1/3 cup E

den

Ume Plum Vinegar
2 Tbsp E

den

Brown Rice Vinegar
E

den

Apple Cider Vinegar

1 3/4 cups cold water

1/2 cup red onion, thinly sliced

16 baby carrots, halved

2 cup small cauliflower florets
Directions
Place all vegetables in the jar. Pour the ume vinegar, brown rice vinegar and water over the vegetables. Place the lid on the jar and shake to thoroughly mix the liquid ingredients. Remove the lid and set aside. Set the jar on the kitchen counter and cover the mouth of the jar with the sushi mat. If a sushi mat is not available, cover with a piece of cotton cheesecloth or linen. Allow to set for 24 hours. Remove the mat and place the lid on the jar. The pickles are now ready to eat. Only remove the portion you wish to eat and keep the remainder refrigerated to prevent spoilage. The pickles will keep for 1 month or more.

Pickles aid in digestion but they are salty. Therefore, only eat 1 or 2 tablespoons daily or several times per week. Rinse under cold water before eating to remove excess sodium. The brine can be used again, just add 1 tablespoon ume vinegar and 1 teaspoon rice vinegar to the brine before adding more raw vegetables.

Yields: 2 1/2 cups

Variation: other vegetables can be pickled as long as they are thinly sliced, quartered, halved or small florets. Some vegetables that can be used are broccoli florets, peeled and thinly sliced broccoli stems, peeled and sliced kohlrabi, regular carrots sliced thin, thinly sliced turnips, daikon radish, white radishes, chopped cabbage or Chinese cabbage, and even watermelon rinds to name a few.
---
Nutritional Information
Per serving - 4 calories, 0 g fat (7% calories from fat), 0 g protein, 1 g carbohydrate, 0 g fiber, 0 mg cholesterol, 65 mg sodium
---
Related Recipes