Serves: 4 | Prep Time: 30 minutes | Cook Time: 15 minutes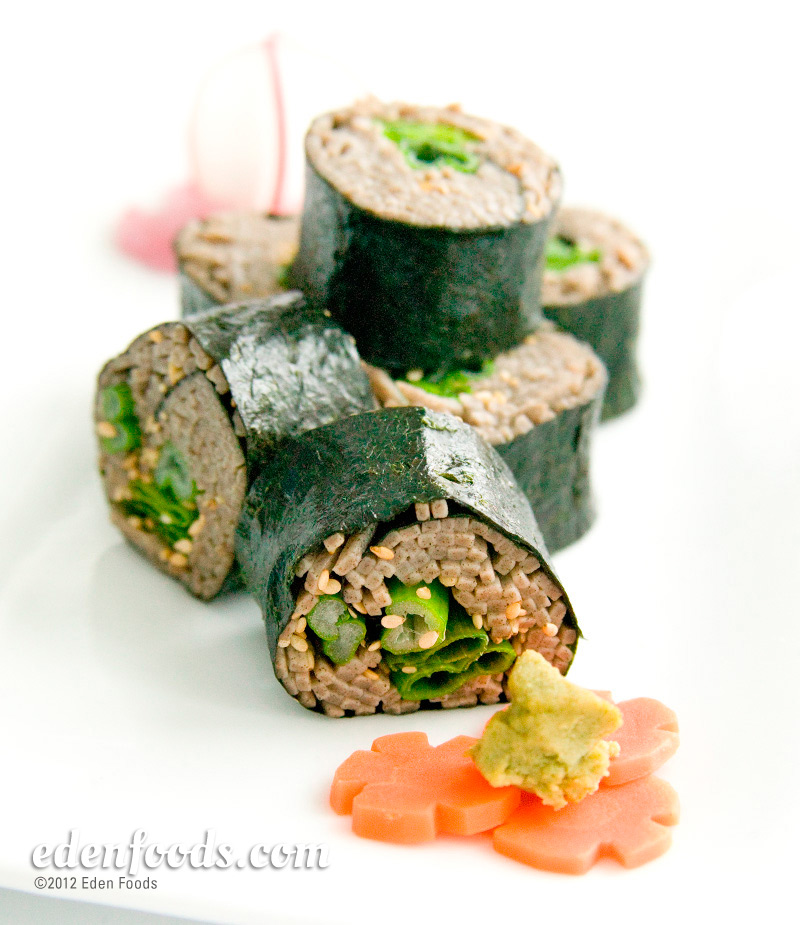 Ingredients
Wasabi Dip Sauce
Directions
Prepare the dip sauce by heating up 1/4 cup water. Season with shoyu, simmer without boiling for 2 minutes. Turn heat off and allow to cool slightly. Add the wasabi and mix. Refrigerate to cool. Place in individual dipping bowls.

Cook soba as package directs, rinse under cold water and drain. Place a sheet of nori, smooth side down, on a bamboo sushi mat. Spread 1/4 of the cooked noodles on the sheet of nori, lengthwise, leaving 1/2 inch of the bottom of the sheet and 2 1/2 inches at the top of the sheet uncovered. Place a scallion, lengthwise, in the center on top of the noodles. Roll forward in a jelly roll fashion, pressing the sushi mat with your thumbs and tucking the nori over the noodles with your fingers. When the roll is almost completely rolled, moisten the far end of the nori with a little cold water. Continue to roll. Wrap the whole roll in the sushi mat and squeeze gently, to seal the roll. Remove the mat from the sushi roll.

Place a small amount of cold water into a bowl. Place a nori roll on the cutting board. Dip the knife into the cold water. Slice the roll in half. Slice each half in half, and each quarter in half. You should now have eight pieces of noodle sushi. Arrange on a serving platter. Repeat the above steps until all rolls have been slice, and sushi has been arranged on the serving platter. Repeat the above steps. You should now have 4 rolls or 32 pieces of noodle sushi.

Dip the sushi into the wasabi dip sauce before eating.
---
Nutritional Information
Per serving - 169 calories, 2 g fat (12% calories from fat), 7 g protein, 31 g carbohydrate, 3 g fiber, 0 mg cholesterol, 509 mg sodium
---
Related Recipes