Serves: 5 | Prep Time: 10 minutes | Cook Time: 20 minutes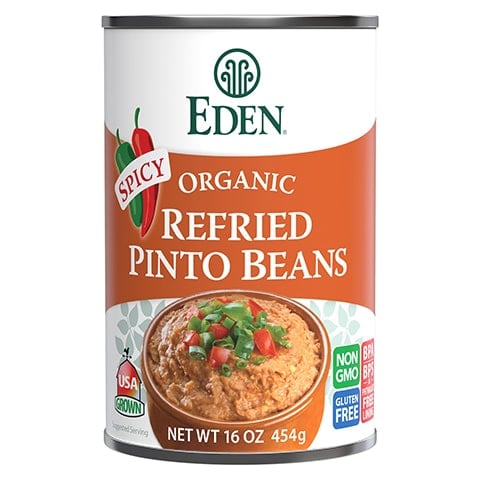 Ingredients
Tofu Sour Cream
1/2 pound organic extra firm tofu, rinsed and drained

1 Tbsp lemon juice, freshly squeezed

1 1/2 tsp E

den

Brown Rice Vinegar
1/4 cup fresh chives, finely chopped
or green onions

3 Tbsp water
Directions
Heat the oil in a large skillet and sauté the garlic for 1 minute. Add the refried beans and water. Mix thoroughly, cover and simmer until hot.

Preheat the oven to 350°. Place the taco shells in the oven and heat several minutes until warm. Remove.

Prepare the tofu sour cream while the taco shells are warming. Place all ingredients for the tofu sour cream in a blender and puree until smooth.

Fill each taco shell with about 1/4 cup of refried beans. Place 2 teaspoons or so of salsa on top of the beans. Place equal amounts of diced tomatoes, red onion and lettuce on top of the salsa. Place 1 to 2 tablespoons tofu sour cream on top of the vegetables and serve.
---
Nutritional Information
Per serving - 384 calories, 9 g fat (22% calories from fat), 16 g protein, 58 g carbohydrate, 12 g fiber, 0 mg cholesterol, 493 mg sodium
---
Related Recipes