Serves: 4 | Prep Time: 25 minutes | Cook Time: 50 minutes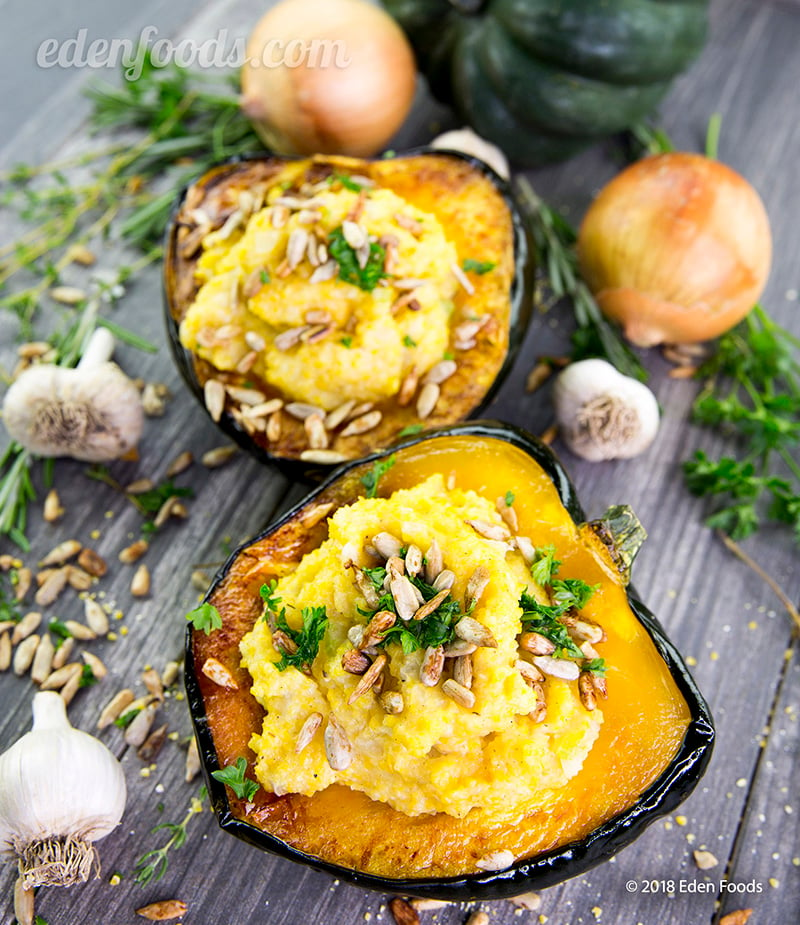 Ingredients
2 medium acorn squash, halved, seeds removed

1 Tbsp E

den

Safflower Oil, for oiling the squash skin and baking pan
1 Tbsp E

den

Extra Virgin Olive Oil, for sautéing vegetables

1/3 cup onion, minced

2 cloves garlic, minced

1/4 cup celery, minced

1 cup E

densoy

Unsweetened

2 cups water

1/2 tsp E

den

Sea Salt

1/4 tsp freshly ground black pepper

1 cup organic yellow corn grits (polenta), coarsely ground variety

1/4 tsp dried sage
or dried poultry seasoning

1 pinch dried thyme

1 pinch dried rosemary

1/3 cup sunflower seeds, dry pan roasted

2 or 3 drop E

den

Tamari or Shoyu Soy Sauce, for season sunflower seeds

1/4 cup fresh parsley, minced
Directions
Preheat the oven to 400°. Lightly oil the squash skin with safflower oil. Lightly oil a baking pan. Place the squash, cut side down, in the baking pan. Bake for 30 minutes or until tender when poked with a fork or knife.

While the squash is baking, prepare the polenta stuffing. Heat up the olive oil in a medium saucepan and sauté the onions and garlic for 2 to 3 minutes. Add the celery and sauté 2 minutes. Add the Edensoy, water, sea salt and pepper. Bring to a boil. Slowly whisk in the polenta, stirring constantly, and bring to a boil. Reduce the flame to medium-low and simmer for 20 minutes or until thick. Remove from the heat.

Rinse the sunflower seeds and dry roast about 7 to 10 minutes over medium heat until slightly brown. Add soy sauce and stir to mix. Remove from heat.

Stir the sage, thyme and rosemary into the polenta. Add extra pepper or sea salt if desired.

Remove the squash from the oven, and turn over so that the cut side faces up. Fill each squash half with equal amounts of polenta. Sprinkle the sunflower seeds over the polenta. Garnish with equal amounts of parsley. Return to the oven and bake for another 15 to 20 minutes or until the topping begins to brown slightly. Remove and place on a serving platter.
Nutritional Information
Per serving - 334 calories, 12 g fat (30% calories from fat), 9 g protein, 54 g carbohydrate, 7 g fiber, 0 mg cholesterol, 244 mg sodium
Related Recipes