Serves: 30 | Prep Time: 35 minutes | Cook Time: 30 minutes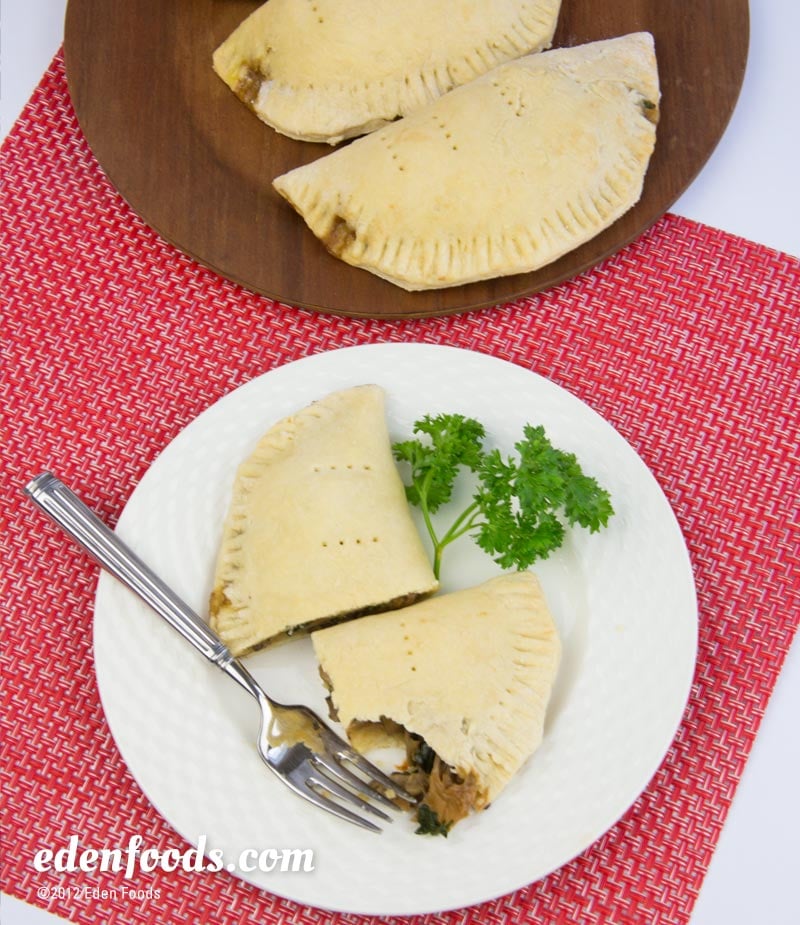 Ingredients
Pastry Dough
Filling
Directions
Soak the shiitake and maitake in separate bowls with warm water to cover for 10 to 15 minutes. Drain off the soaking water, reserved for soup stock, and coarsely chop the mushrooms.

To prepare the pastry, combine the dry ingredients. Combine wet ingredients and add to the dry. Mix and form into a ball of dough. Place the dough in the freezer for 10 minutes to chill.

While the dough is chilling, heat up the oil in a skillet and sauté the onions and garlic for 2 to 3 minutes. Add all mushrooms and the shoyu. Sauté for 7 to 10 minutes. Add pepper and mix. Remove from the flame, stir in the chopped spinach, and allow to cool. Preheat the oven to 350°.

NOTE; This recipe is for smaller, appetizer-size turnovers. For larger turnovers, the dough can be rolled into larger circles and filled with more filling.

Divide the dough into 4 pieces and roll out 1 piece at a time on a floured board into a thin round. Cut the dough into circles with a 4 inch pastry cutter. Repeat until all dough has been rolled out and cut into circles. Spoon 2 tablespoons of the filling onto each half of the dough circles. Fold the dough over the mushroom and spinach filling. Press the edges of the dough together with a fork to seal. Repeat until all circles have been filled and sealed.

Place the turnovers on baking sheets, lined with parchment paper or lightly oiled. Bake for 20 minutes or until golden. Allow to cool several minutes before serving.
---
Nutritional Information
Per serving - 90 calories, 5 g fat (46% calories from fat), 3 g protein, 10 g carbohydrate, 1 g fiber, 0 mg cholesterol, 62 mg sodium
---
Related Recipes