Serves: 5 | Prep Time: 15 minutes | Cook Time: 30 minutes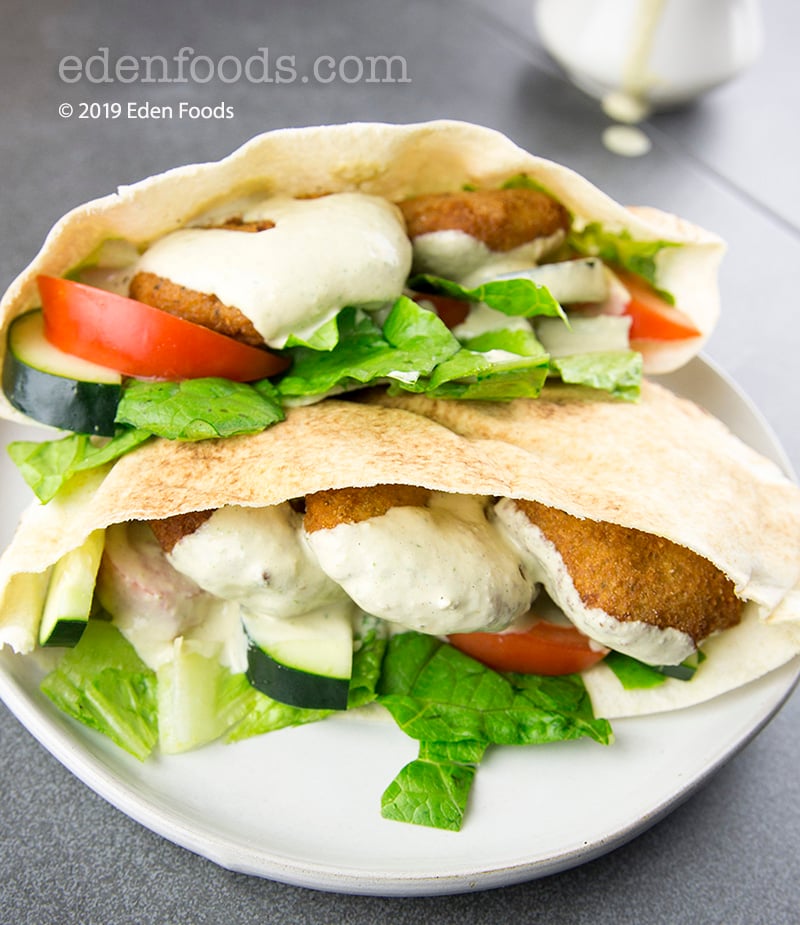 Ingredients
Falafel
Tahini Dressing
For Accompaniment
3 whole organic whole wheat pita pockets

1 medium cucumber, sliced thin

1 medium organic tomato, sliced thin

2 cups mixed baby salad greens, or chopped romaine lettuce
Directions
Falafel: Heat the olive oil and sauté the garlic and onions for 2 to 3 minutes. Place in a mixing bowl. Blend the garbanzo beans in a blender or food processor with the reserved bean cooking liquid until smooth. Place in the mixing bowl. Add the cooked millet, lemon juice, tahini, parsley, cumin, whole wheat flour and sea salt. Mix thoroughly with your hands to evenly blend the ingredients. The mixture should be thick. If too wet, add a little more flour. If to dry, add a little more bean cooking liquid. Shape the mixture into 15 equal size balls and roll each one in the cornmeal to coat. Heat the safflower oil and deep fry or pan fry, turning occasionally, until golden brown. Remove and drain on paper towels. Repeat until all falafel are cooked.

To prepare the dressing, place all ingredients in a blender or food processor and puree until smooth and creamy. Place in a serving dish.

Preheat the oven to 350°. Heat up the pita bread for 5 minutes until warm. Remove and slice the pita in half and open the pocket. Place 2 or 3 falafel in each pocket. Spoon a little dressing over the falafel. Place slices of cucumber and tomato in each pocket and salad greens or lettuce.

NOTE: To make the millet, take 2/3 cup rinsed, uncooked millet and place in a saucepan. Dry roast millet for 2 to 3 minutes on medium heat. Add 2 cups water and a pinch of sea salt. Cover and bring to a boil. Reduce the flame and simmer for 30 to 35 minutes. When done remove and place in a bowl. Toss with a wooden spoon to cool or let sit overnight before making the falafel. If you do not have millet, you can substitute couscous.
---
Nutritional Information
Per serving - 429 calories, 19 g fat (35% calories from fat), 15 g protein, 57 g carbohydrate, 10 g fiber, 0 mg cholesterol, 474 mg sodium
---
Related Recipes