Serves: 5 | Prep Time: 30 minutes | Cook Time: 35 minutes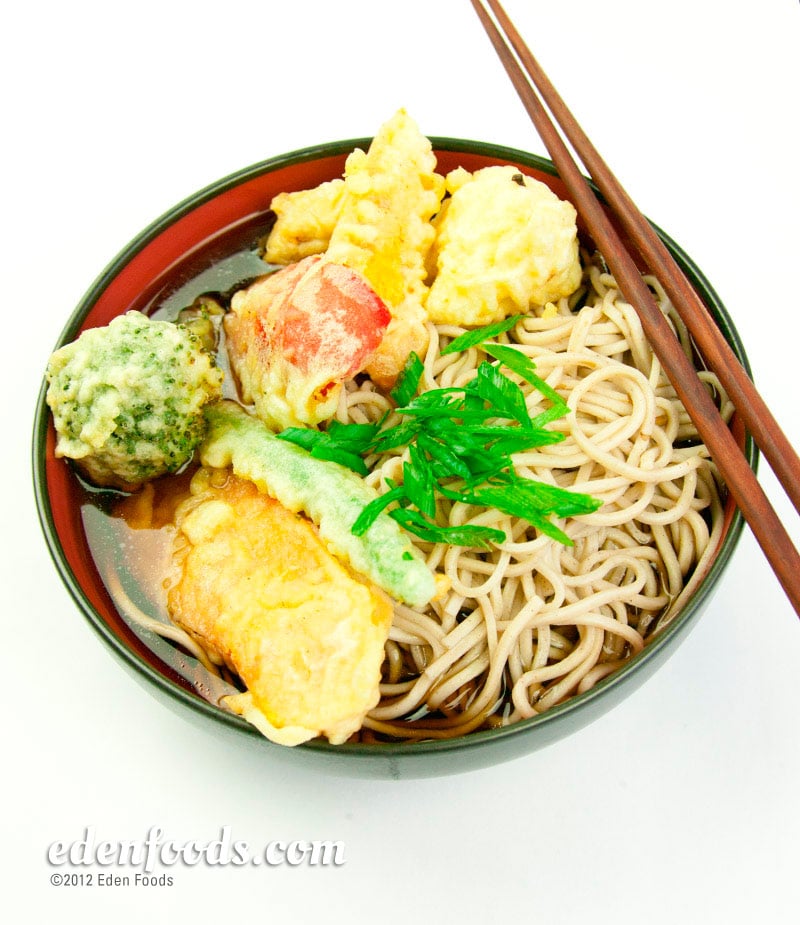 Ingredients
Broth
Tempura Batter
Vegetables & Other Items
5 broccoli, florets

5 whole green beans, stems removed

5 cauliflower, florets

5 whole button mushrooms, stems removed

E

den

Safflower Oil, for deep-frying the tempura
Garnishes
2 tsp fresh ginger root, finely grated

1/4 cup scallions, finely chopped
Directions
Cook noodles as package directs, rinse, drain and set aside. To prepare the broth, place the shiitake, water and kombu in a saucepan. Cover and bring to a boil. Reduce the flame and simmer 5 minutes. Remove the kombu, and discard or use in another dish. Reduce the flame to low, add the shoyu and simmer another 5 minutes. Turn flame off and reheat just before the tempura is ready.

To prepare the tempura batter combine the flours, sea salt, kuzu and water in a bowl, mixing until the kuzu dissolves. Place the batter in the freezer for 10 to 15 minutes. This will result in a crispier tempura.

Heat the oil. When the oil is hot, dip several pieces of vegetable into the batter completely coating them. Place in the hot oil and deep fry until golden and crispy on each side. Remove and drain on a rack or paper towels. To keep the tempura warm while the rest of the vegetables are being cooked, place them on a tray in a 200° oven. Make sure not to deep fry too many pieces at one time, as it will lower the temperature of the oil, and result in soggy tempura. Continue until all vegetables are deep fried.

Place the noodles in individual serving bowls. Top with several pieces of tempura and ladle the broth over. Garnish with ginger and scallions before serving.
---
Nutritional Information
Per serving - 331 calories, 2 g fat (5% calories from fat), 12 g protein, 67 g carbohydrate, 7 g fiber, 0 mg cholesterol, 411 mg sodium
---
Related Recipes