Serves: 4 | Prep Time: 20 minutes | Cook Time: 2 hours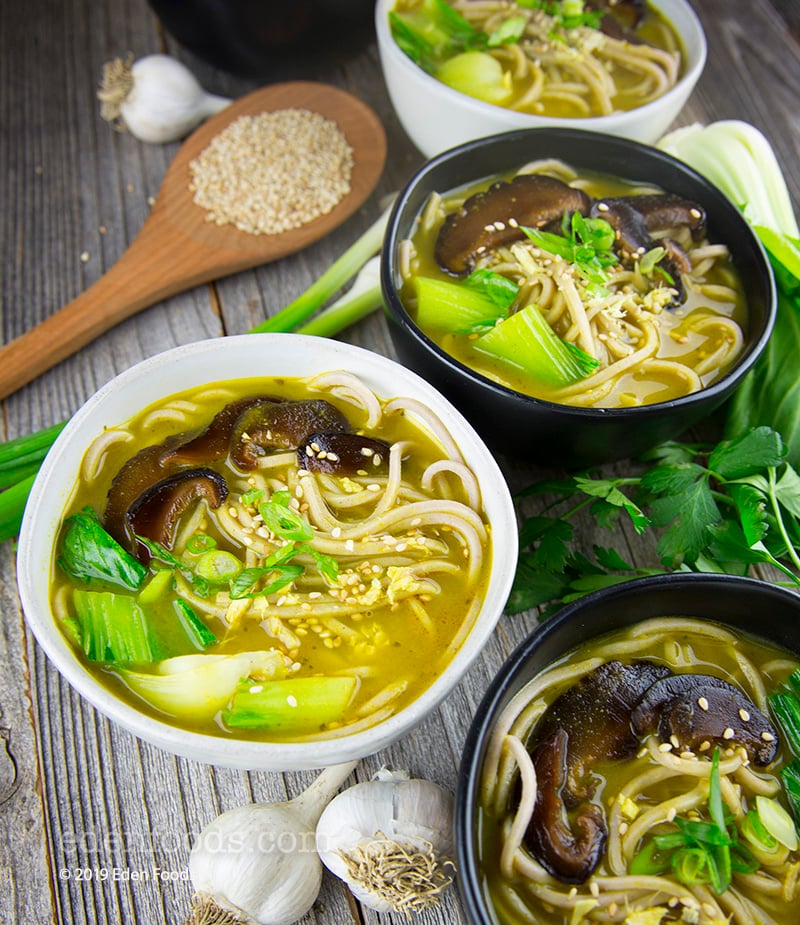 Ingredients
1 tsp E

den

Toasted Sesame Oil
1 Tbsp E

den

Extra Virgin Olive Oil

2 Tbsp ginger root, minced

4 cloves garlic, minced

1 cup onions, diced

2 1/2 Tbsp E

den

Cumin

2 Tbsp cilantro, dried

1 1/2 Tbsp E

den

Ground Turmeric

3 Tbsp lemongrass paste

1 Tbsp sriracha, (hot chili sauce)

1/2 tsp lime zest, grated

6 cup homemade vegetable stock, (see Eden's recipe) or store bought

4 cup unsweetened full fat coconut milk

1 tsp E

den

Sea Salt
2 Tbsp organic maple syrup
1 cup E

den

Whole Leaf Dulse
1/2 cup E

den

Sliced Shiitake Mushrooms
2 Tbsp E

den

Gomasio, for garnish

2 Tbsp scallions, chopped, for garnish

16 ounces any E

den

Soba
Directions
Place oil in a large saucepan and sauté onion, garlic and ginger 2 to 3 minutes until onion is tender. Add cilantro, cumin, turmeric, lemongrass paste, sriracha, and lime zest. Cook 5 minutes stirring constantly. Add vegetable stock, coconut milk, sea salt and maple syrup. Bring to a boil. Reduce the heat, add dulse, stir, cover and simmer 1 to 2 hours.

While broth is cooking, place shiitake in a small saucepan with one cup water and bring to a boil. Reduce heat, cover and simmer 10 minutes. Add 1 Tbsp Eden Shoyu Soy Sauce and 1 Tbsp maple syrup, cover and cook another 10 minutes. Remove from heat and set aside. When the broth is just about done, cook the soba as package directs, rinse, and drain.

Strain vegetables and dulse from broth and place broth back in the saucepan. Place soba in serving bowls and ladle broth over. Garnish with shiitake, scallions, sesame seeds, and chopped ginger.
---
Nutritional Information
Per serving - 568 calories, 34 g fat (52% calories from fat), 13 g protein, 57 g carbohydrate, 9 g fiber, 0 mg cholesterol, 430 mg sodium
---
Related Recipes