Serves: 8 | Prep Time: 30 minutes | Cook Time: 25 minutes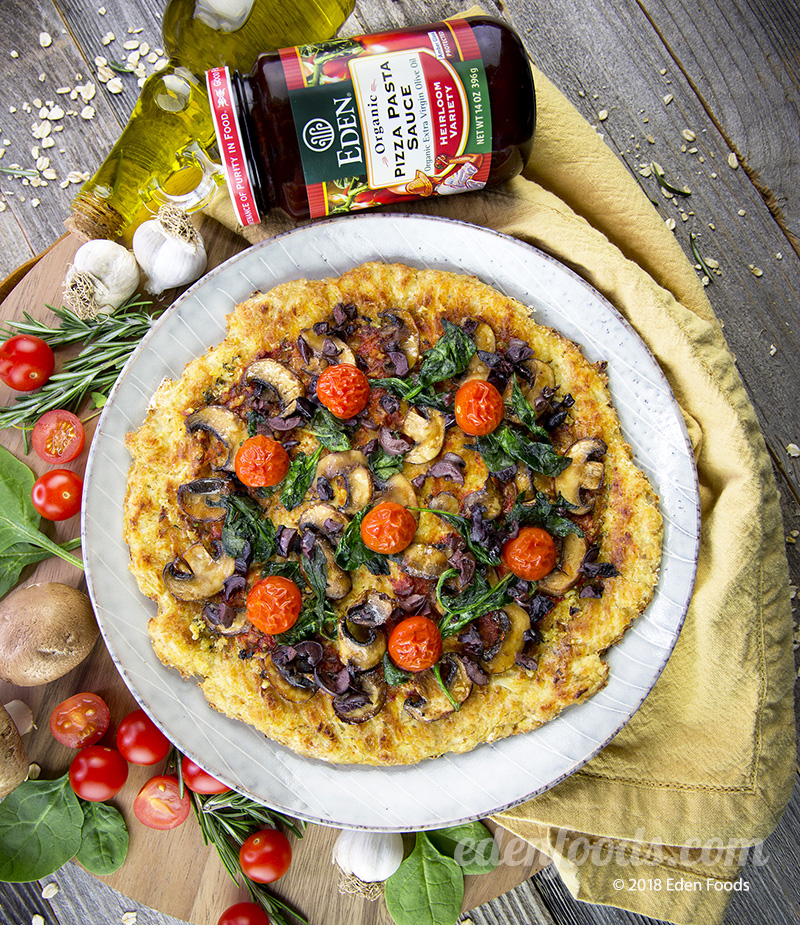 Ingredients
Dough
1 medium cauliflower, cut into small florets (about 4 cups)

2 1/2 Tbsp organic flaxseed meal, soaked in 1/4 tsp warm water for 20 minutes

1/3 cup organic millet flour, lightly dry pan toasted 2 to 3 minutes

2 Tbsp E

den

Oat Flakes, grind to flour in a blender, or store-bought oat flour
1 tsp E

den

Dried Oregano
1/4 tsp E

den

Garlic Powder
Toppings
Directions
Steam the cauliflower until it is very soft and falls apart easily. Remove, drain and cool. Combine the millet and oat flours, oregano, garlic powder, and sea salt and set aside.

Preheat the oven to 450° F. When the cauliflower has cooled, place it in a clean dish towel or cotton cheesecloth sack. Using you hands, squeeze out as much liquid as you can from the cauliflower (about 1 cup or more should come out). Place the cauliflower in a medium mixing bowl and mash well with a fork or potato masher. Add the soaked flaxseed meal and mix well. Add the flour mixture, stir and form into a ball of dough. If still too moist, add a tiny bit more flour.

Line a baking pan with baking paper. Place the cauliflower dough on the paper and pat it down to form a circle. Place another piece of baking paper on top of the dough and roll the dough into a 1/4-inch thick circle about 12 inch in diameter. Remove and discard the top layer of baking paper. Bake the crust for 15 minutes. Combine the 1/4 cup olive oil, garlic, thyme and rosemany and set aside to infuse the oil. While the crust is cooking, place a tsp of oil in a skillet and sauté the mushrooms with shoyu for 2 minutes to brown. Add the spinach and cook another 2 minutes until the spinach is wilted and bright green. Remove from burner.

When the crust has baked, remove from the oven. Flip the crust over onto an oiled baking pan. Drizzle the herb infused oil on top of the crust. Eden Pizza Pasta Sauce is also a great topping on this delectable crust. Arrange the sauteed mushrooms, spinach, olives and cherry tomatoes on the crust. Bake for another 10 to 15 minutes until the edges of the crust start to brown. Remove, cool and slice.
---
Nutritional Information
Per serving - 132 calories, 9 g fat (57% calories from fat), 3 g protein, 12 g carbohydrate, 4 g fiber, 0 mg cholesterol, 182 mg sodium
---
Related Recipes