Serves: 8 | Prep Time: 45 minutes | Cook Time: 25 minutes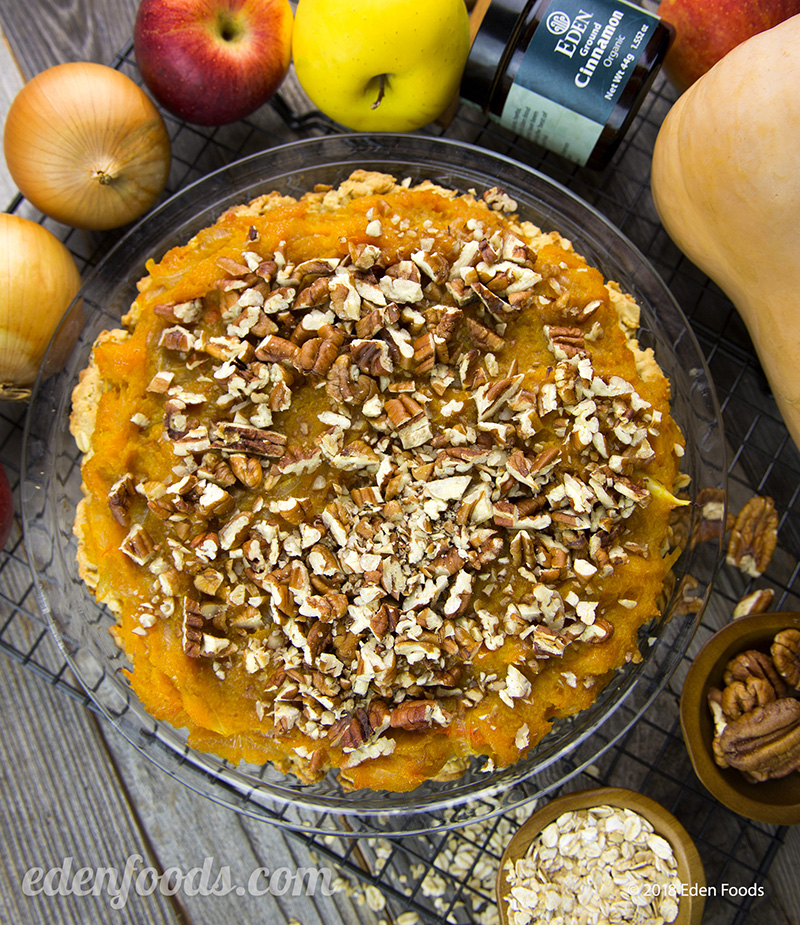 Directions
Preheat the oven to 400°. Oil a baking sheet, place squash cut side down on the sheet. Bake for 35 to 40 minutes or until tender. Remove from the oven and let cool slightly.

While the squash bakes, heat 2 tablespoons oil in a medium saucepan and sauté the onions with a pinch of salt over medium-low heat until they are translucent and begin to caramelize. Scoop the squash out of the skin and place in the saucepan with the onions. Add the cinnamon and sea salt, thoroughly mix, cook about 5 minutes and set aside.

To prepare the pie crust, place the oats, two flours, baking powder, and sea salt in a mixing bowl. Stir to mix well. Add the oil, apple juice, maple syrup, barley malt, vanilla extract and mix thoroughly. Oil a 9" x 13" cookie sheet or pie plate and press the batter down firmly to flatten, forming a pie crust about 1/4" to 1/2" thick. Bake the pie shell for 20 minutes until slightly browned. Spread the squash and onions evenly over the pie crust. Sprinkle the chopped nuts over the squash and bake another 5 to 7 minutes. Remove, let sit to cool, slice and serve.
---
Nutritional Information
Per serving - 311 calories, 13 g fat (35% calories from fat), 5 g protein, 49 g carbohydrate, 6 g fiber, 0 mg cholesterol, 176 mg sodium
---
Related Recipes