Serves: 18 | Prep Time: 10 minutes | Cook Time: 0 minutes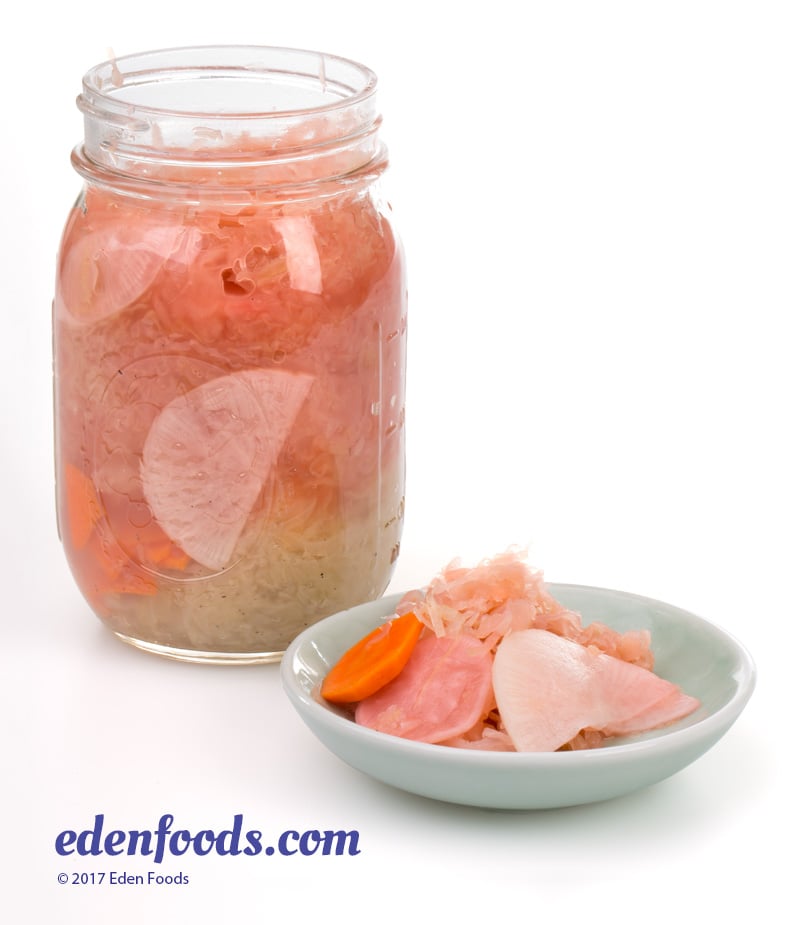 Ingredients
1/2 cup E

den

Onion Sauerkraut, drained
1/2 cup E

den

Sauerkraut, drained

1/4 cup thinly sliced red radishes

1/4 cup thinly sliced carrots

1/4 cup thinly sliced daikon or watermelon radish

1 cup sauerkraut juice, drained from sauerkraut

1 small piece cotton cheesecloth

1 pint canning jar with lid
Directions
Using hands, squeeze 1 cup of sauerkraut brine from Eden sauerkraut. Combine the two sauerkrauts. Place sauerkraut and vegetables, in layers, in a 1 pint glass canning jar. Press down slightly. Add the sauerkraut brine to cover the vegetables and sauerkraut.

Place a thin layer of cotton cheesecloth over the mouth of the jar. Secure in place with an elastic band, string or the jar's o-ring. Let sit on kitchen counter overnight. Remove cheesecloth, place the cap on the jar, and refrigerate.

Remove pieces of vegetables and sauerkraut as desired and serve with meals. Keeps about 2 to 3 weeks.
---
Nutritional Information
Per serving - 6 calories, 0 g fat (3% calories from fat), 0 g protein, 1 g carbohydrate, 0 g fiber, 0 mg cholesterol, 83 mg sodium
---
Related Recipes