Serves: 4 | Prep Time: 10 minutes | Cook Time: 20 minutes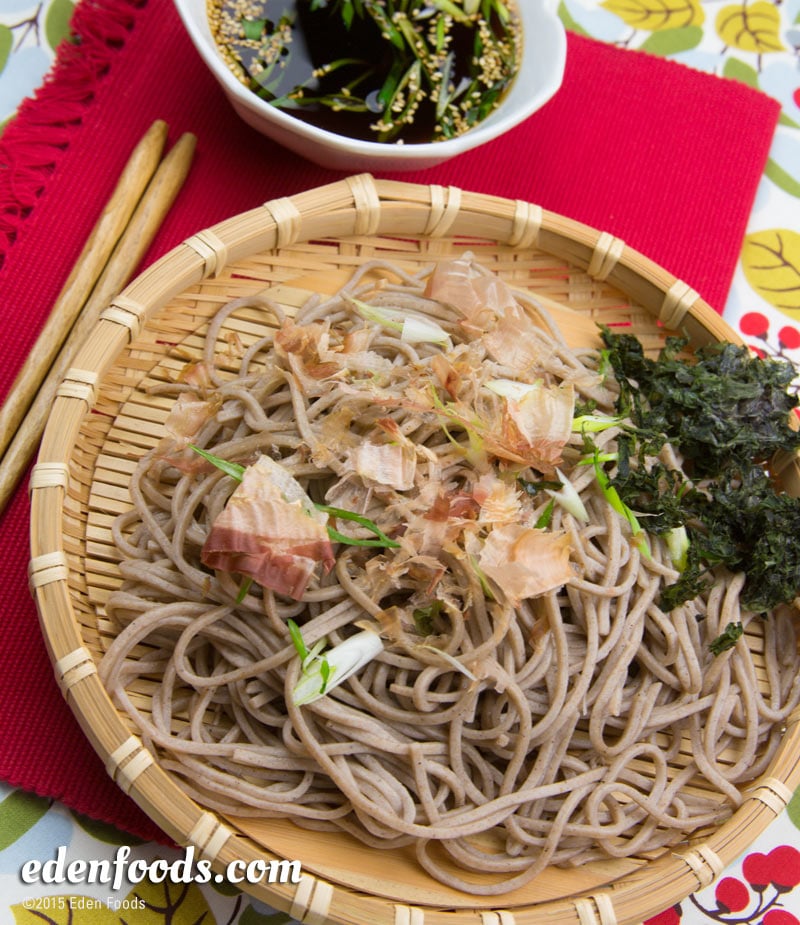 Ingredients
Dipping Sauce
Garnish
Directions
Cook the soba per package directions. Pour into a colander and rinse under cold water. While the soba is cooking prepare the dipping sauce..

Place the water, kombu, mirin and shoyu in a small saucepan. Bring almost to a boil. Reduce heat to low and simmer 5 minutes. Remove from heat and discard the kombu or use again to make a milder soup stock or dashi. Set the liquid aside to cool or refrigerate until chilled.

When the dipping sauce is cool, place an equal portion of soba on individual small plates or traditional Japanese bamboo-lined plates. Garnish with green onions, bonito flakes (if desired) and nori krinkles.

Pour the dipping sauce into small dipping bowls or ramekins and add an equal portion of sesame seeds, green onions, and wasabi paste.

Note: The dipping sauce can be serve cold or hot depending on the weather and your preference. The sauce is a little on the salty side as it is for dipping not soaking the noodles in like broth. It may be further diluted with water to taste. Steamed or tempura vegetables can also be used as toppings.

Any remaining sauce can be refrigerated in a sealed container.
---
Nutritional Information
Per serving - 338 calories, 3 g fat (9% calories from fat), 12 g protein, 65 g carbohydrate, 5 g fiber, 0 mg cholesterol, 346 mg sodium
---
Related Recipes