Serves: 4 | Prep Time: 20 minutes | Cook Time: 30 minutes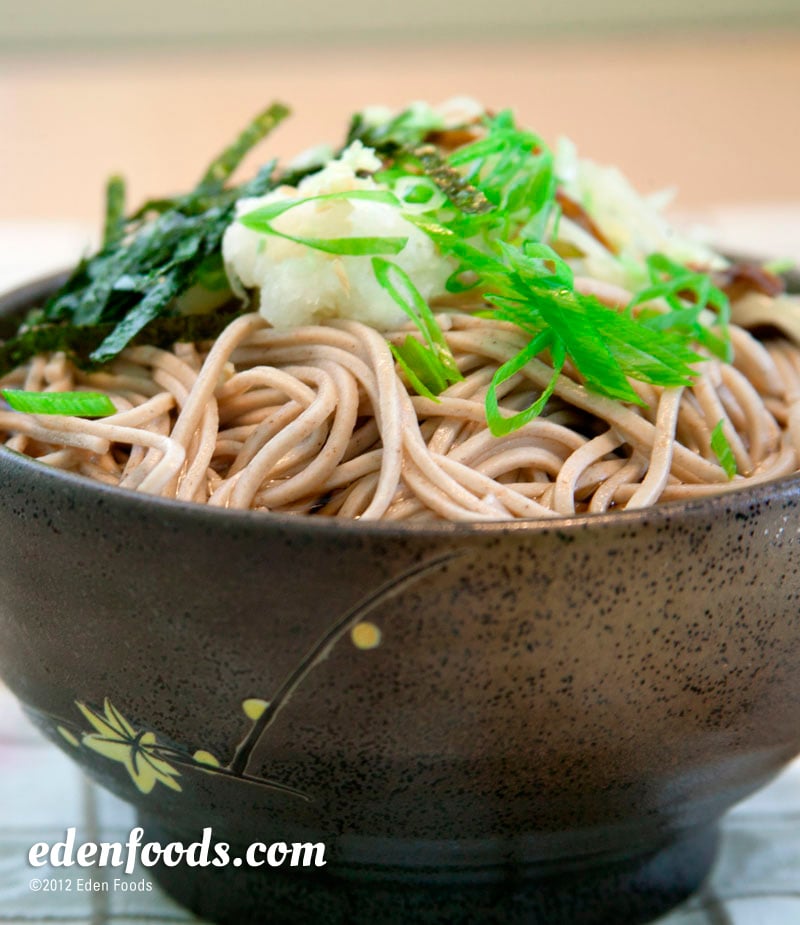 Ingredients
Dashi (noodle Broth)
Directions
Cook soba as package directs, rinse, drain and set aside. To prepare the broth, place the kombu, water and shiitake in a medium saucepan. Cover and bring to a boil. Reduce the flame to medium-low and simmer 5 minutes. Remove the kombu and discard. Cook for another 5 to 7 minutes.

While the broth is simmering, heat the oils in a wok or large skillet and add the fresh shiitake. Stir fry for 1 minute. Add 1 1/2 tsp. shoyu and fry 1 minute. Add the cabbage and fry 2 to 3 minutes. Remove and place in a bowl.

Reduce the flame under the broth to low and season it with the shoyu and mirin. Simmer 1 minute. Place the soba in 4 individual soup bowls. Top with an equal amount of stir fried vegetables and ladle the broth over. Garnish each serving with daikon, spicy nori strips and scallions. Pass the wasabi paste to each person so that they can flavor their broth as desired, as wasabi is quite hot.
---
Nutritional Information
Per serving - 345 calories, 6 g fat (15% calories from fat), 12 g protein, 63 g carbohydrate, 7 g fiber, 0 mg cholesterol, 651 mg sodium
---
Related Recipes