Serves: 6 | Prep Time: 25 minutes | Cook Time: 20 minutes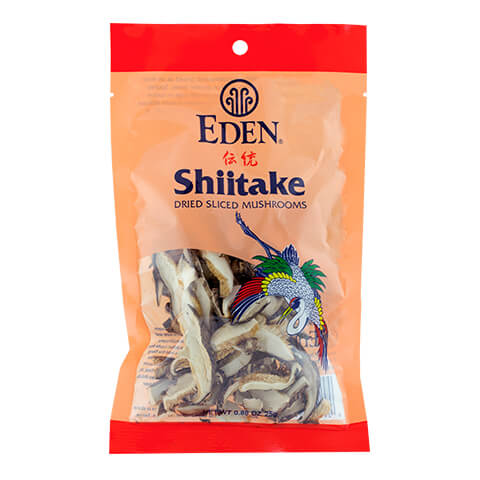 Directions
In separate bowls, soak the shiitake and maitake in warm water to cover for 20 minutes. Drain off the water and reserve 1 cup for cooking. Chop the shiitake and maitake coarsely and set aside.

Heat oil in a skillet, sauté the garlic and mushrooms for 2 to 3 minutes. Add the flour and sauté, mixing constantly, until all vegetables are coated with the flour. Combine the mushroom soaking water with the Edensoy. Slowly whisk in the liquid, stirring constantly until it becomes thick. Add the sea salt, mirin, oregano and basil. Cover and simmer on low for 10 minutes.

While the sauce is cooking, cook the pasta as package directs, and drain. When the sauce is done mix in the parsley and black pepper to taste and mix in pasta.
---
Nutritional Information
Per serving - 354 calories, 8 g fat (20% calories from fat), 19 g protein, 66 g carbohydrate, 9 g fiber, 0 mg cholesterol, 252 mg sodium
---
Related Recipes