Serves: 10 | Prep Time: 15 minutes | Cook Time: 40 minutes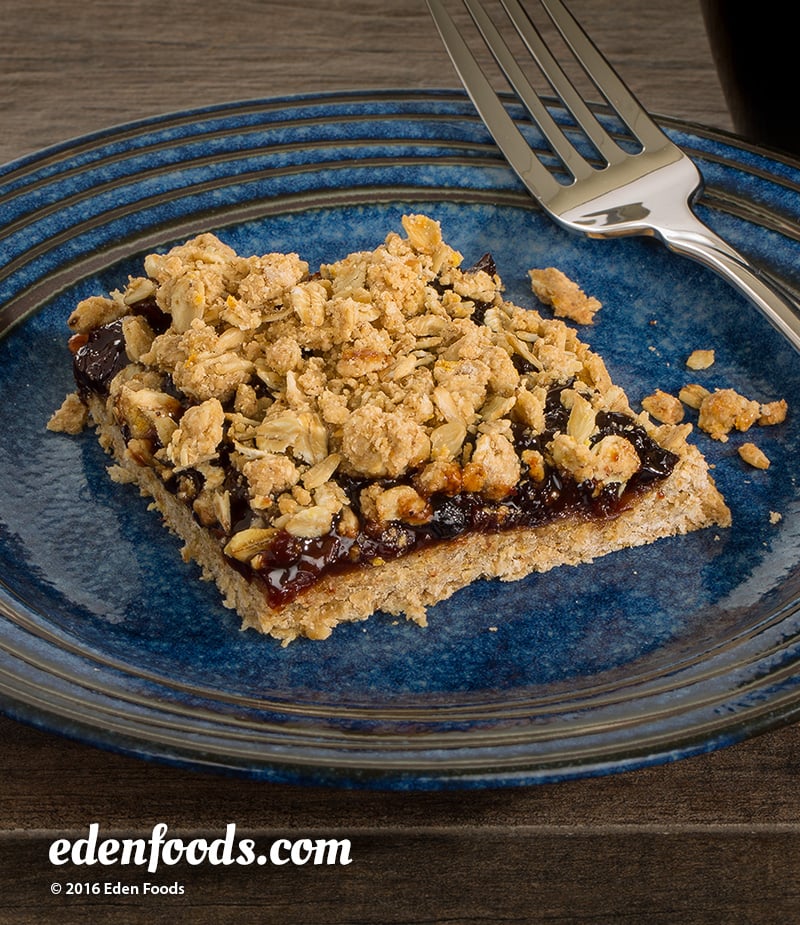 Ingredients
Cherry Blueberry Filling
Oatmeal Crust & Topping
Directions
Preheat the oven to 350°. To prepare the filling, place the chopped cherries, blueberries, juice and sea salt in a medium saucepan. See note below, if a sweeter flavor is desired. Bring to a boil, cover, reduce the flame to low and simmer 10 minutes until the cherries are soft. Add the dissolved kuzu, stirring constantly until thick. Cook 2 to 3 minutes and turn off the flame. Set aside while you prepare the crust and topping.

To prepare the crust and topping, dry roast the oats for about 4 to 5 minutes until slightly browned and they release a nutty aroma. Next, dry roast the flour for 2 to 3 minutes until it release a nutty aroma. Combine all dry ingredients for the crust and topping. Combine all the wet ingredients. Mix the wet and dry ingredients together to form a dry crumbly mixture. Divide the mixture in half. Set one half aside. Oil a small baking sheet. Take one half of the crust mixture and add 3 to 4 more tablespoons of apple cherry juice (see * above) and form into a small ball of dough. Place the dough on an oiled baking sheet and roll out so that it is about 1/4 inch thick. With your fingers, pinch edges of the dough to form a rectangle about 6" x 12". Evenly spread the cherries over the crust. Take the remaining oat topping mixture and evenly sprinkle it on top of the cherries. Bake for 30 minutes. Remove and allow to cool for 20 minutes or so before cutting into squares.

Yield: makes 12 bars - 2" x 3"

NOTE: If a less tart, sweeter flavor is desired, add 1/4 cup pure organic maple syrup to the cherry filling at the beginning of cooking.
---
Nutritional Information
Per serving - 296 calories, 12 g fat (36% calories from fat), 3 g protein, 46 g carbohydrate, 4 g fiber, 0 mg cholesterol, 284 mg sodium
---
Related Recipes