Serves: 4 | Prep Time: 2 hours | Cook Time: 1 hour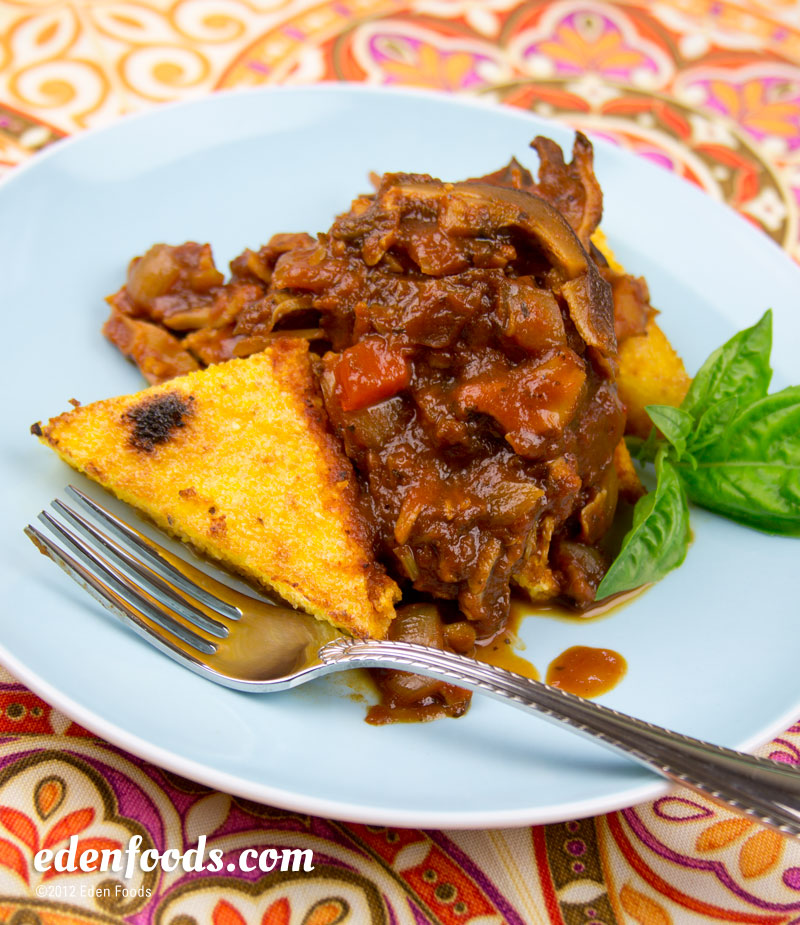 Ingredients
Polenta
Chunky Mushroom Marinara
Directions
Bring water to a boil in a medium saucepan. Add sea salt and corn, stirring constantly with a wire whisk until it starts to thicken. Reduce the flame to low and simmer 10 minutes until the polenta is done. Lightly oil a 8" baking pan. Pour the polenta into the pan and smooth out evenly to about 1/2" thick. Place the pan in the refrigerator and chill for 2 hours or until firm.

While the polenta is chilling prepare the marinara sauce. Heat oil and sauté the garlic and onions for 2 to 3 minutes. Add the mushrooms and shoyu, and sauté 2 to 3 minutes. Add all remaining ingredients for the sauce except the parsley. Cover and bring to a boil. Reduce the flame to low and simmer for 35 to 40 minutes until the mushrooms are very tender.

Slice the hardened polenta into rectangular slices. about 4" by 2". Lightly oil a metal baking sheet and place the polenta slices on it. Lightly brush each slice with olive oil. Place the broiler rack so that it is about 4 inches from the flame. Broil until golden and slightly browned around the edges, about 20 minutes. Remove the slices.

Place equal number of polenta slices on each serving plate and ladle marinara sauce over before serving. Garnish with parsley and serve.
---
Nutritional Information
Per serving - 458 calories, 13 g fat (24% calories from fat), 17 g protein, 74 g carbohydrate, 14 g fiber, 0 mg cholesterol, 526 mg sodium
---
Related Recipes