Serves: 4 | Prep Time: 20 minutes | Cook Time: 6 minutes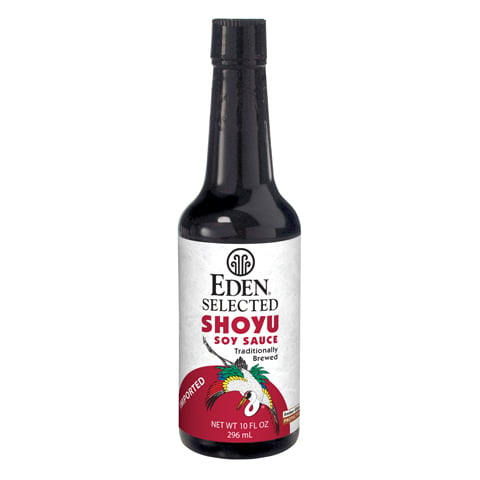 Ingredients
1 pound organic extra firm tofu, rinsed and drained

2 Tbsp E

den

Mirin
2 1/2 Tbsp E

den

Shoyu Soy Sauce
2 tsp E

den

Toasted Sesame Oil, or Black Sesame Oil

1 Tbsp fresh ginger root, finely grated, squeeze grated ginger to obtain 2 tsp. fresh ginger juice, discard pulp

2 Tbsp green onions, finely minced for garnish
Directions
Slice the tofu into eight equal size pieces and drain on paper towels while you prepare the marinade. Mix together the mirin, shoyu and ginger juice. Place the tofu slices in a shallow bowl and pour the marinade over. Marinate for 10 minutes, then turn the slices over and marinate the other side for 10 minutes. Remove the tofu and allow to drain for a few seconds. Heat the oil in a heavy skillet and pan fry the tofu on one side for 2 to 3 minutes until golden brown. Flip the slices over and fry for another 2 minutes or until golden. Remove, place on a serving plate and garnish with green onions.

Yield: 8 slices, 2 slices per person.

Note: although the sodium content is high with any food that is marinated in teriyaki sauce, the amount of sodium shown per serving in this recipe is actually less because the tofu does not absorb most of the marinade. The remaining marinade can be reserved and reused or discarded.
---
Nutritional Information
Per serving - 167 calories, 8 g fat (39% calories from fat), 13 g protein, 13 g carbohydrate, 1 g fiber, 0 mg cholesterol, 712 mg sodium
---
Related Recipes