Serves: 4 | Prep Time: 10 minutes | Cook Time: 10 minutes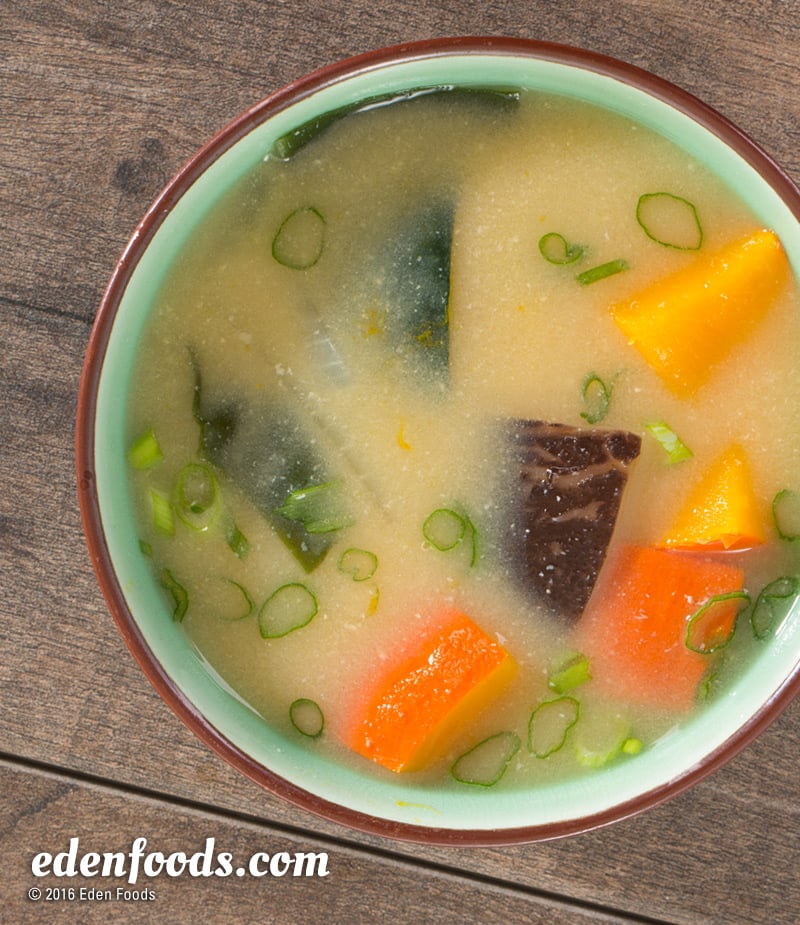 Ingredients
4 cups water, including shiitake soaking water

1 package E

den

Whole Shiitake Mushrooms, soaked in hot water to cover 20 minutes, reserve soaking water

1/2 cup onions, thinly sliced

3 inch piece E

den

Wakame
or 1 teaspoon E

den

Instant Wakame Flakes
1 1/2 cups Hokkaido Pumpkin, cubed
Red Kuri or any winter squash
1 1/2 Tbsp E

den

Shiro Miso, dissolved in 2 T. cold water,
or any E

den

Miso

3 Tbsp green onions, finely sliced
Directions
Remove the stems from shiitake and discard. Slice caps thin or quarter. Place water and shiitake soaking water in a pot and bring water to a boil. Cover and simmer 10 minutes. Rinse wakame, soak in cold water to cover for 5 minutes and dice. If using instant wakame flakes, add directly to the pot; no soaking required. Add onions and wakame. Simmer 3 minutes. Add the squash and simmer 5 minutes or until tender. Reduce the heat to very low. Add pureed miso and simmer 2 minutes without boiling. Serve garnished with green onions.

Optional Ingredients: tofu, Eden Dried Tofu, Eden Shiitake or Maitake Mushrooms, Eden Bonito Flakes, leafy greens, daikon, lotus root, leeks, round or root vegetables, cooked Eden Udon, Soba, Mung Bean Pasta, or Rice Pasta, or even leftover, cooked organic grains.

Eden Mugi, Hacho, or Shiro Miso may be substituted for Genmai. You may need to use just slightly more miso, 1/2 teaspoon, if using shiro.
Nutritional Information
Per serving - 30 calories, 0 g fat (7% calories from fat), 1 g protein, 6 g carbohydrate, 1 g fiber, 0 mg cholesterol, 346 mg sodium
Related Recipes