Serves: 6 | Prep Time: 1 hour 30 minutes | Cook Time: 20 minutes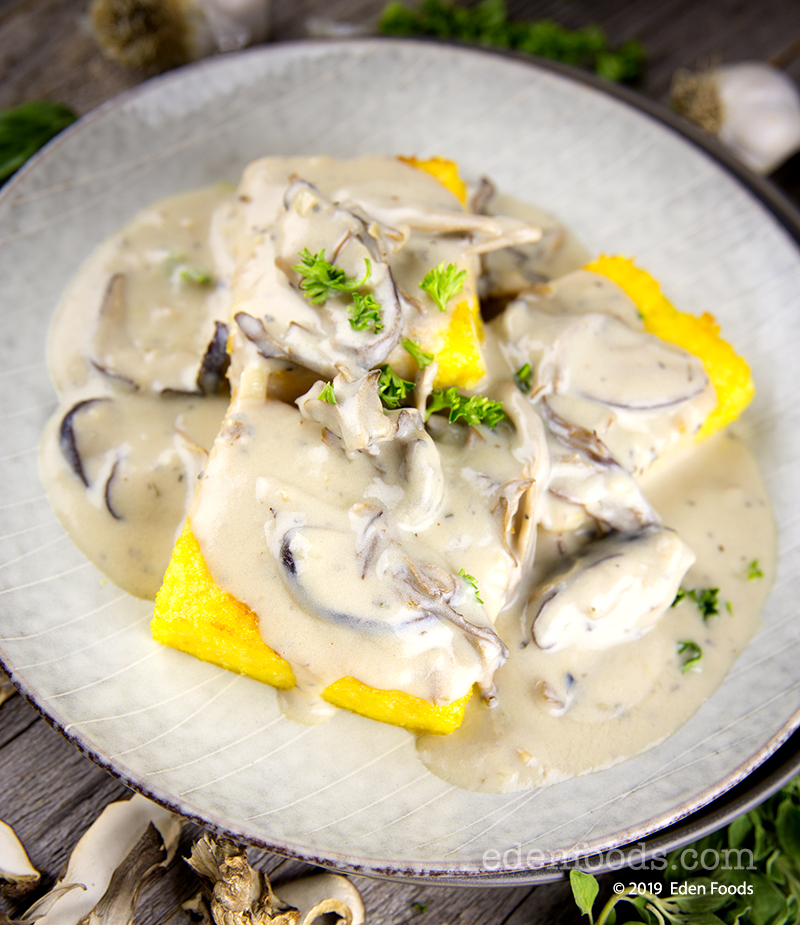 Directions
Bring 3 cups water to a boil. Add salt and whisk in the polenta, stirring constantly until it begins to thicken. Reduce the heat and simmer for about 10 minutes. Pour the polenta into a shallow glass baking dish, spread out evenly with a spoon until about 1/2 inch thick and refrigerate 1 hour or so until firm.

Prepare the gravy just before frying the polenta slices. Heat the olive oil in a skillet and sauté the garlic and mushrooms for 2 to 3 minutes. Add the flour and sauté, mixing constantly, until all vegetables are coated with the flour. Combine the mushroom soaking waters with the Edensoy. Slowly whisk in the liquid, stirring constantly until it becomes thick. Add the sea salt, mirin, oregano and basil. Simmer uncovered on low for 10 minutes.

While the sauce is cooking, slice the polenta into squares or rectangles. Oil a skillet or griddle with safflower oil. Pan fry the slices until golden and crisp on each side.

Add the pepper to the gravy, mix. Ladle the gravy over individual servings of polenta and garnish with parsley to serve.
Nutritional Information
Per serving - 249 calories, 6 g fat (16% calories from fat), 12 g protein, 61 g carbohydrate, 18 g fiber, 0 mg cholesterol, 256 mg sodium
Related Recipes