Serves: 6 | Prep Time: 2 hours 20 minutes | Cook Time: 25 minutes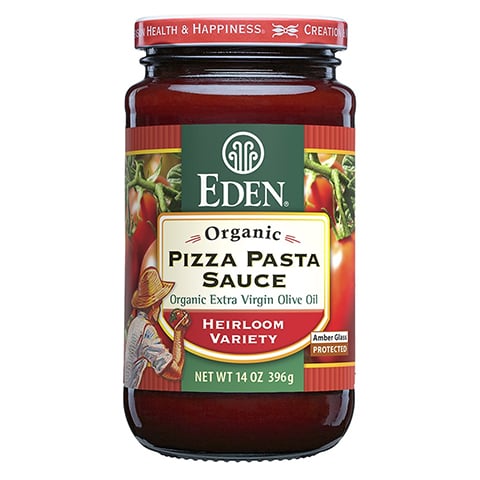 Ingredients
Pizza Dough
Topping
1 1/4 cup E

den

Pizza Pasta Sauce

1/4 cup green bell pepper, thinly sliced

1/4 cup yellow bell pepper, thinly sliced

1/4 cup red bell pepper, thinly sliced

8 jumbo pitted black olives, sliced

1/4 cup red onion, sliced into very thin rings

2 tsp E

den

Extra Virgin Olive Oil, to oil pizza dough
Directions
Combine flour and sea salt in a bowl. Combine the warm water, yeast and oil in a measuring cup. Stir and let sit 3 to 4 minutes until the yeast dissolves. Slowly add the yeast mixture to the flour, mix and form into a ball of dough. Knead the dough for 10 minutes. Lightly oil a mixing bowl with a little olive oil, place the dough in the bowl. Cover the bowl with a warm, damp towel. Set in a warm place to rise until the dough doubles in size, about 1 to 2 hours.

Lightly oil a 12" pizza pan or spread a little corn meal on a baking stone. Pat and stretch the dough into the pan or to the desired shape on a baking stone, pinching up the edges to hold the filling. Lightly oil the pizza dough with a little Eden Extra Virgin Olive Oil. Evenly spread the Eden Pizza Pasta Sauce on the dough. Spread all other ingredients on top of sauce. Let sit for 10 minutes to rest. Preheat the oven to 400°. Bake for 20 to 25 minutes until the bottom of the crust is light brown. Slice and serve.

Yields one 12" pizza, 2 slices per person

Note: Flours such as organic unbleached white or a combination of whole wheat and other flour can be substituted for kamut flour to prepare the crust. If using 100% whole wheat flour, you may need to increase the water amount slightly for the crust.
---
Nutritional Information
Per serving - 223 calories, 6 g fat (24% calories from fat), 7 g protein, 37 g carbohydrate, 7 g fiber, 0 mg cholesterol, 375 mg sodium
---
Related Recipes