Serves: 2 | Prep Time: 1 hour 20 minutes | Cook Time: 20 minutes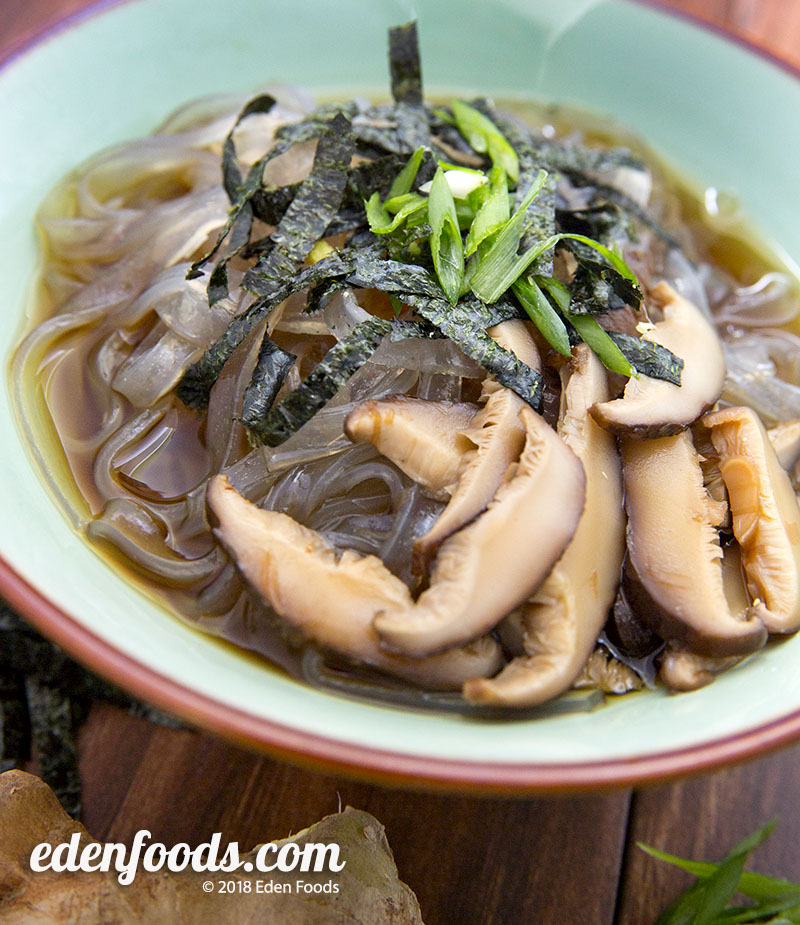 Directions
Soak shiitake in warm water to cover for 10 minutes, remove and reserve soaking water. If using whole shiitake, remove stems, discard and slice the cap. Place the water, all shiitake soaking water, shiitake and kombu in a saucepan. Cover, and bring to a boil. Reduce the flame to medium-low and simmer for 5 minutes. Remove the kombu and set aside (use in another dish). Reduce the flame to low, add the shoyu and simmer 5 minutes. Turn the flame off and add the mirin. Place in a bowl, refrigerate 1 hour and allow to cool.

Cook noodles as package directs, rinse under cold water and drain.

Place the cooked noodles in individual serving bowls and ladle the cool broth over. Garnish each serving with strips of nori, scallions and grated ginger root.

NOTE: For a Gluten Free recipe substitute Eden Tamari Soy Sauce or a bit of Eden Sea Salt to taste in place of Eden Shoyu Soy Sauce.
---
Nutritional Information
Per serving - 258 calories, 0 g fat (0% calories from fat), 3 g protein, 50 g carbohydrate, 4 g fiber, 0 mg cholesterol, 406 mg sodium
---
Related Recipes