Serves: 3 | Prep Time: 10 minutes | Cook Time: 12 minutes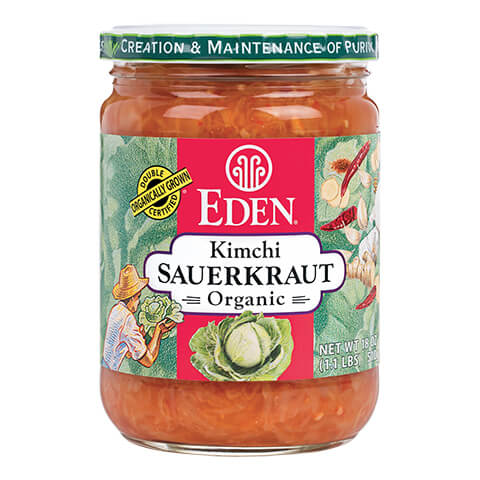 Directions
Place half the cauliflower in a food processor and pulse until the cauliflower looks like grains of rice. Pour into a bowl and pulse the remaining half of the cauliflower. Place in the bowl.

Heat the oils and sauté the garlic and half of the scallions for 1 minute. Add the pepper slices and sauté 2 minutes. Add all of the cauliflower and sauté, stirring frequently for 3 to 4 minutes. Add the shoyu, kimchi sauerkraut, chili paste. Continue to shuté for 2 to 3 minutes

Add the lime juice and remainder of the scallions. Sauté another minute or so before serving with 1 teaspoon Eden Garlic Gomasio sprinkled over each serving for garnish.
Nutritional Information
Per serving - 126 calories, 4 g fat (26% calories from fat), 4 g protein, 20 g carbohydrate, 6 g fiber, 0 mg cholesterol, 1344 mg sodium
Related Recipes