Serves: 6 | Prep Time: 20 minutes | Cook Time: 1 hour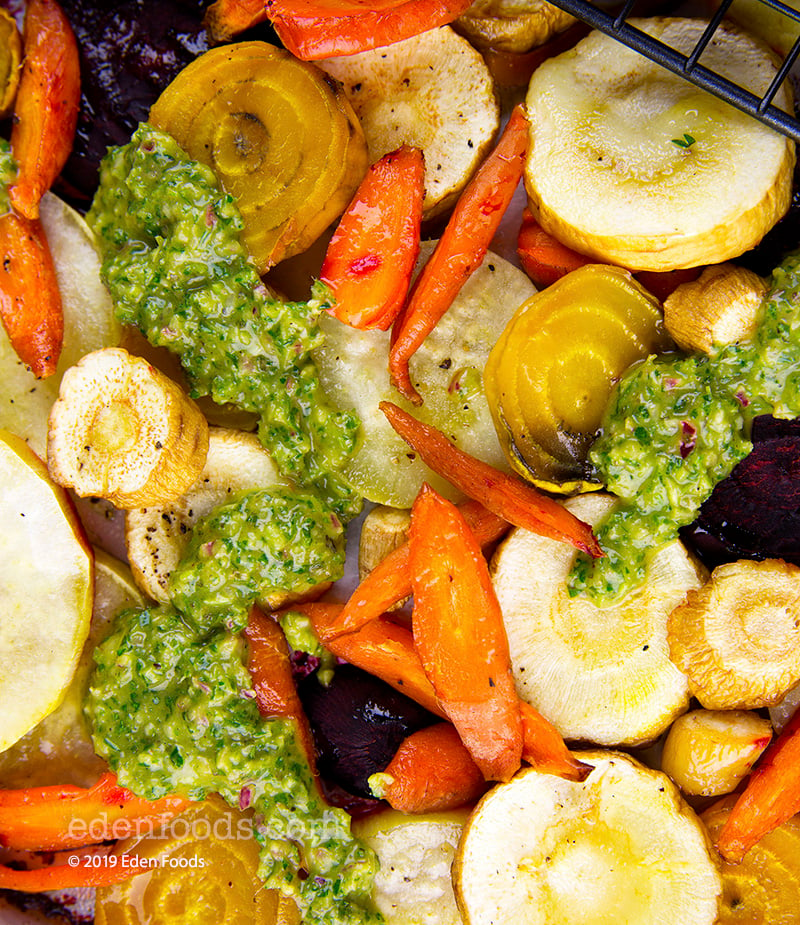 Ingredients
Roasted Vegetables
1 large sweet potato, peeled and slice in 1/4" thick slices

2 medium red beets, peeled and slice in 1/4" thick slices

2 medium yellow beets, peeled and slice in 1/4" thick slices

2 medium parsnips, sliced in 1/4" diagonals or rounds

1 bunch carrots with tops, slice carrots in 1/4" diagonals and reserve the carrots tops for sauce

1 Tbsp E

den

Extra Virgin Olive Oil
1 Tbsp E

den

Extra Virgin Olive Oil, for vegetables
1/4 tsp E

den

Sea Salt

1/8 tsp freshly ground black pepper
Chimichurri Sauce
Directions
Preheat oven to 400° F. Lightly oil a large baking sheet. Arrange all vegetable slices on the sheet. Drizzle or spray with olive oil. Sprinkle on salt and pepper. Bake for 45 minutes to one hour until tender.

To prepare the chimichurri sauce, place the parsley, carrot tops, cilantro, garlic, red onion, olive oil, vinegar, lemon juice, coriander, dried cilantro, salt, pepper and cayenne in a blender or food processor. Pulse several times to blend. The sauce should be coarse and chunky. Set aside until the roasted vegetables are done.

Remove the vegetables from the oven when tender, arrange on a platter and serve with chimichurri sauce spooned over them.
Nutritional Information
Per serving - 392 calories, 30 g fat (68% calories from fat), 3 g protein, 29 g carbohydrate, 7 g fiber, 0 mg cholesterol, 271 mg sodium
Related Recipes