Serves: 6 | Prep Time: 30 minutes | Cook Time: 1 hour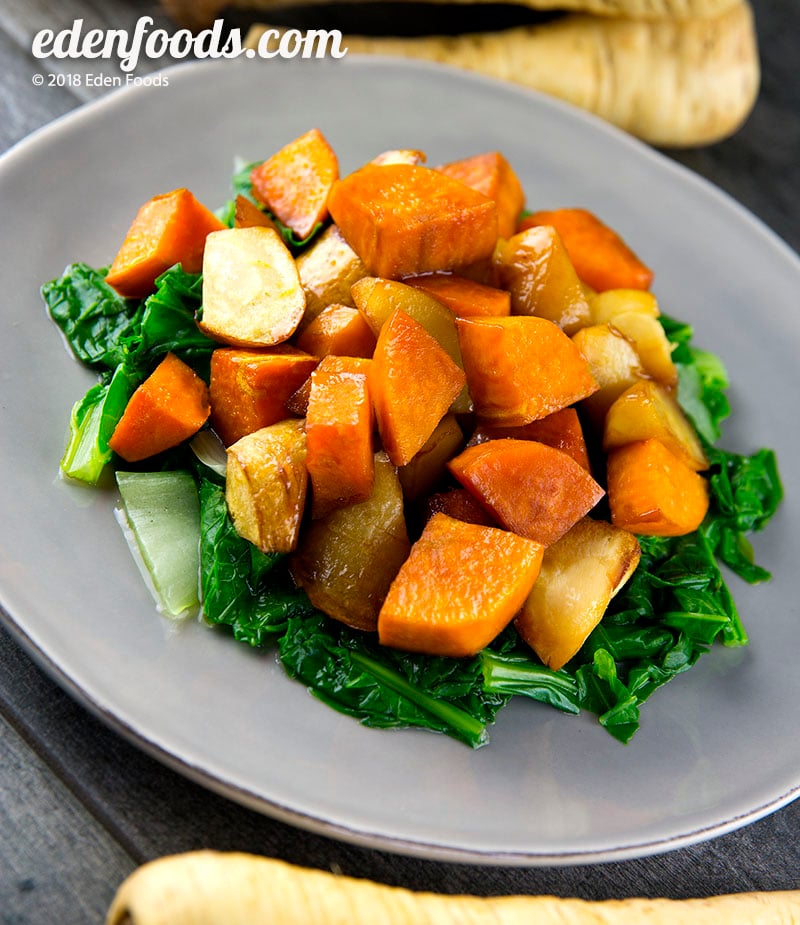 Ingredients
3 medium parsnips, sliced into 2" chunks

2 medium sweet potatoes, sliced into 2" chunks

1 Tbsp E

den

Extra Virgin Olive Oil

1 Tbsp balsamic vinegar

3 Tbsp E

den

Barley Malt Syrup, or maple syrup

Grated zest from one lemon

1 bunch greens, (pok choy, watercress, mustard, kale, Italian broccoli, dandelion, turnip, etc.)
Directions
Preheat oven to 375°. In a large bowl, combine parsnips and sweet potatoes with oil, soy sauce, vinegar, syrup and lemon zest. Mix well to coat the vegetables. Transfer the vegetables to a shallow baking dish, taking care not to overlap the vegetables (this will cause uneven baking). Cover and bake for 35 minutes. Remove the cover and bake for another 15 to 20 minutes, until tender and the edges are browned.

Meanwhile, bring a medium pot of water to a boil and cook the greens until crisp but bright green, about 2 to 3 minutes. Drain well and cut into bite-size pieces.

To serve, arrange greens on a platter and mound roasted vegetables on top. Serve with lemon wedges, if desired.
---
Nutritional Information
Per serving - 179 calories, 2 g fat (10% calories from fat), 3 g protein, 39 g carbohydrate, 7 g fiber, 0 mg cholesterol, 128 mg sodium
---
Related Recipes