Serves: 4 | Prep Time: 20 minutes | Cook Time: 35 minutes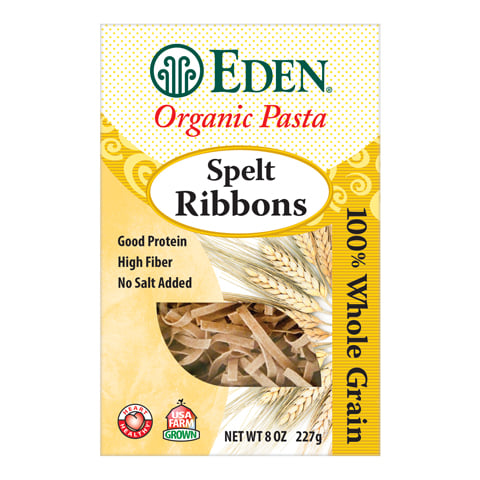 Ingredients
8 ounces E

den

Spelt Ribbons
1/2 cup E

den

Sliced Shiitake Mushrooms, soaked in 1 cup warm water for 10 minutes, soaking water reserved
1/2 cup E

den

Maitake Mushrooms, soaked in 1 cup warm water for 20 minutes, soaking water reserved

3 whole portobello mushrooms, stems removed, and scrape gills out, sliced

2 cup water, including reserved mushroom soaking water

2 cloves garlic, minced

1 tsp fresh rosemary, minced
or 1/4 tsp. dried rosemary
1/4 tsp E

den

Dried Basil
1/4 cup E

den

Dried Oregano
2 Tbsp E

den

Extra Virgin Olive Oil
1/4 tsp E

den

Black Pepper, or to taste
2 tsp E

den

Shoyu Soy Sauce
Pesto Sauce
Directions
Heat 2 tablespoons olive oil in a large skillet and sauté the garlic for 1 minute. Add the mushrooms, rosemary, oregano and basil. Sauté for about 5 minutes. Add the water, including the shiitake and maitake soaking waters, shoyu, and black pepper. Bring to a boil. Reduce the flame and simmer for 10 to 15 minutes, until the liquid is almost gone.

While the mushrooms are cooking, cook the pasta according to package directions.

Prepare the pesto by placing all ingredients in a food processor or blender and pulse until smooth. When the pasta is done, remove from heat, drain and place in a bowl. Toss in the mushroom mixture. Gently stir in the pesto sauce and place in a serving bowl.
---
Nutritional Information
Per serving - 596 calories, 33 g fat (46% calories from fat), 24 g protein, 64 g carbohydrate, 14 g fiber, 0 mg cholesterol, 329 mg sodium
---
Related Recipes