Serves: 6 | Prep Time: 15 minutes | Cook Time: 15 minutes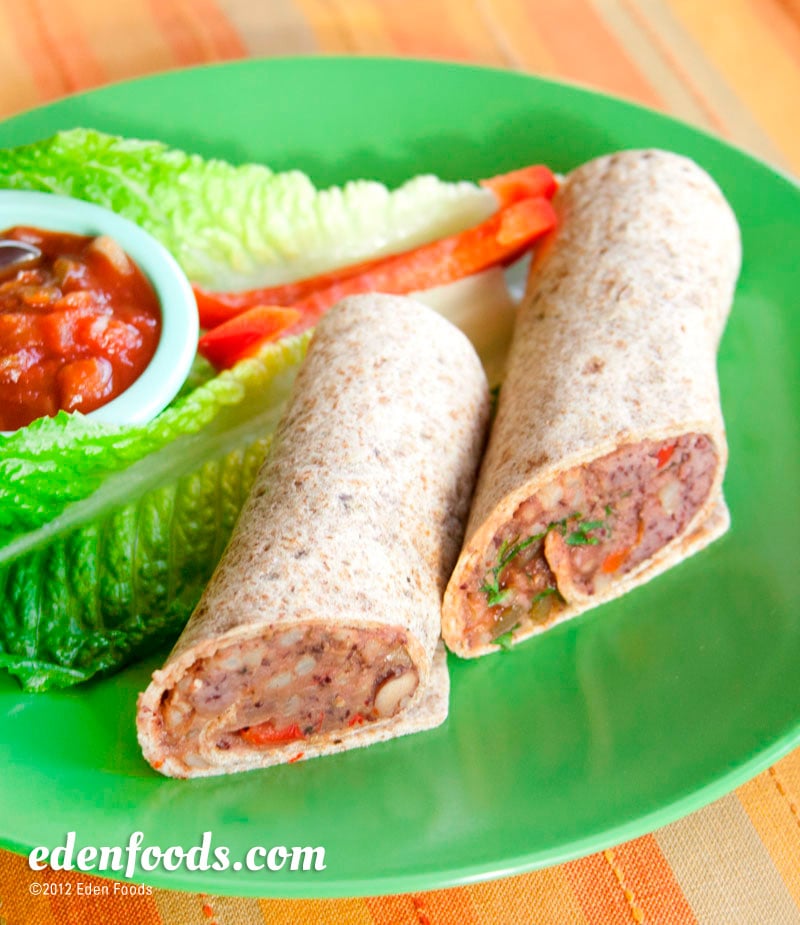 Ingredients
2 (16 oz) cans E

den

Spicy Refried Pinto Beans, or Spicy Refried Black Beans
1 Tbsp E

den

Extra Virgin Olive Oil

2 cloves garlic, finely minced

1/2 cup onion, diced

1/2 cup green bell pepper, diced

1/2 cup red bell pepper, diced

1/2 cup organic sweet corn, fresh or frozen

2 cups cooked organic long grain or basmati brown rice

12 organic whole grain flour or corn tortillas
Salsa
Directions
Drain half the liquid off the diced tomatoes and set aside. Place the tomatoes, onion, lime juice, shoyu, cumin, coriander, parsley and maple syrup in a small mixing bowl and mix. Add more seasoning or tomato liquid for desired consistency. Set aside while you prepare the beans and heat the tortilla shells.

Heat the oil in a large skillet and sauté the garlic and onions for 2 to 3 minutes. Add the green pepper, red pepper and sweet corn. Sauté 1 to 2 minutes. Add the refried beans and mix thoroughly with the vegetables until hot. While the beans are heating, prepare the tortillas.

Preheat the oven to 300°. Place the tortillas in a tortilla warmer or casserole dish, cover and heat until warm, about 10 minutes.

Remove the tortillas from the oven. Place 3 or 4 tablespoons of rice in the center of each tortilla. Place 2 or 3 tablespoons of refried beans on top of the rice. Roll up and spoon the salsa over before eating.
---
Nutritional Information
Per serving - 665 calories, 14 g fat (19% calories from fat), 19 g protein, 117 g carbohydrate, 12 g fiber, 0 mg cholesterol, 1134 mg sodium
---
Related Recipes