Serves: 6 | Prep Time: 30 minutes | Cook Time: 20 minutes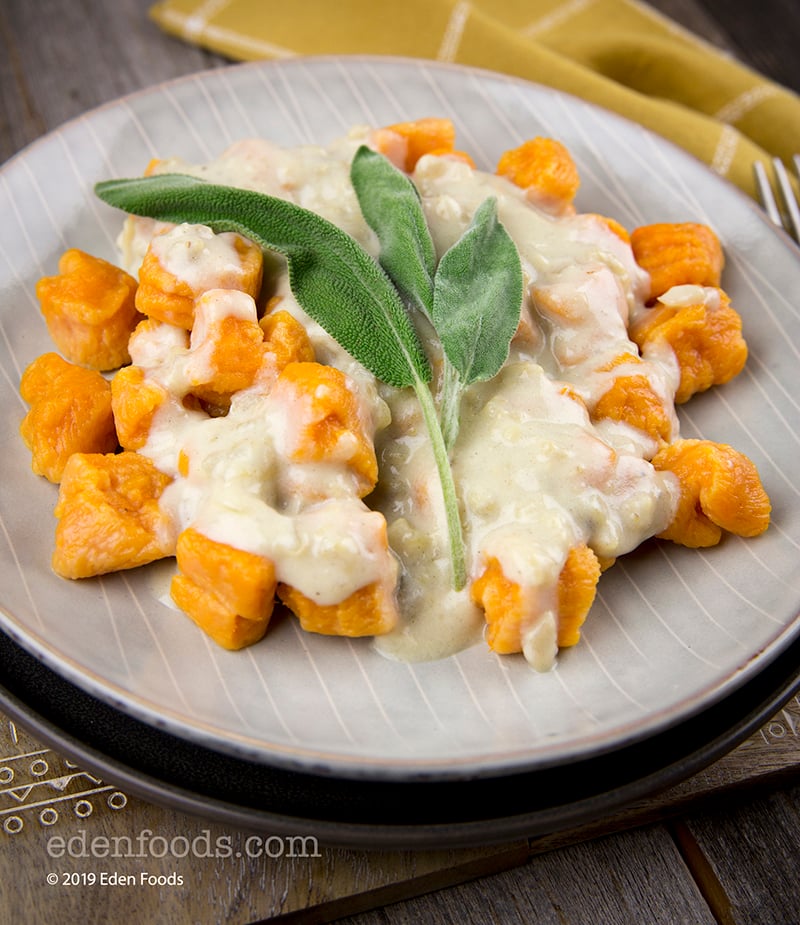 Ingredients
Gnocchi
Cream Sauce
Directions
Peel sweet potato and cut into 1 inch pieces. Boil in water for 15 to 20 minutes until tender. Drain, allow to cool, and place sweet potatoes in a mixing bowl. Add garlic powder, nutmeg, and salt. Mash with a potato masher. Add flour and stir to combine. Knead with hands for a few minutes to form a ball of dough. Add more flour if needed.

Place dough on a floured surface. Divide into quarters. Using your hands, roll out 1/4 of dough into a long rope-like strand. Cut into 1 inch pieces. Using your thumb, roll the pieces of dough against the back of a fork to form ridges in the dough. Repeat until all dough has been formed.

Bring 3 quarts of water to a boil and add a pinch of salt. Working in batches, place 12 to 15 gnocchi in the boiling water. When gnocchi float to the surface, boil another 2 to 3 minutes. Remove with a slotted spoon and drain. Repeat in batches until all gnocchi are cooked.

To prepare sauce, heat oil in a large skillet and sauté shallots for 2 minutes. Add sage and flour, stirring constantly. Quickly whisk soymilk and water into flour mixture to avoid lumping. Season with sea salt, pepper and more sage to taste. Place gnocchi in cream sauce and mix well before serving.

_b_NOTE:_/b_ Remaining dough can be stored in an airtight container in freezer.
---
Nutritional Information
Per serving - 217 calories, 7 g fat (30% calories from fat), 8 g protein, 30 g carbohydrate, 4 g fiber, 0 mg cholesterol, 238 mg sodium
---
Related Recipes