Serves: 5 | Prep Time: 30 minutes | Cook Time: 20 minutes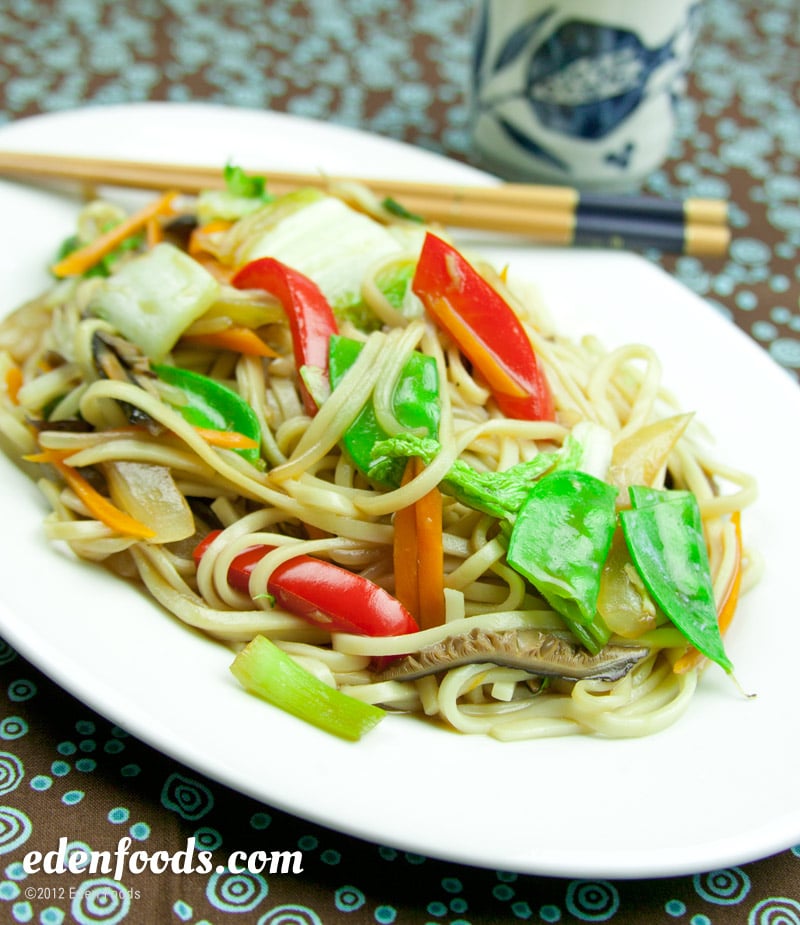 Ingredients
8 ounces E

den

Spelt Udon, 1 package
or any E

den

Udon
1/2 cup E

den

Dried Whole Shiitake, soaked 20 minutes in 1 cup hot water
or 1/2 cup E

den

Sliced Shiitake Mushrooms
1 Tbsp E

den

Extra Virgin Olive Oil, for sautéing onions
1 Tbsp E

den

Toasted Sesame Oil, for sautéing onions

1 cup onion, chopped

1 cup water, for sauce

2 Tbsp E

den

Kuzu Root Starch
1 1/2 Tbsp E

den

Shoyu Soy Sauce
1 Tbsp E

den

Ponzu Sauce
1 1/2 Tbsp organic maple syrup, or honey

1 tsp finely grated fresh ginger root, peel and discard skin before grating

1/2 tsp E

den

Hot Pepper Sesame Oil
1/4 cup celery, sliced thin
or diced celery

1/2 cup matchstick carrots

1 cup mung bean sprouts, rinsed

1/4 cup red bell pepper slices

1 cup Chinese cabbage, sliced
or pak choy

1/2 cup snow peas, remove stems, slice in half
Directions
Cook the noodles as directed on the package, rinse, drain and set aside.

If using whole shiitake, remove and discard the stems, and slice the caps. Place the shiitake and shiitake soaking liquid in a small saucepan, cover and bring to a boil. Lower the heat and simmer about 15 minutes. Remove and drain.

Heat the olive and toasted sesame oil in a large skillet and sauté the onions and cooked shiitake for 3 to 5 minutes.

Combine the water, kuzu, shoyu, ponzu, honey, ginger, and hot pepper sesame oil in a measuring cup and whisk to dissolve the kuzu. Pour the liquid into the skillet and add the celery and carrots. Stir constantly until the liquid begins to thicken.

Add the red peppers, bean sprouts, Chinese cabbage and snow peas to the skillet, mix, simmer 1 minute and add the cooked udon. Simmer another 2 to 3 minutes until the udon is hot. Adjust the seasoning with more shoyu, if desired and serve hot.
---
Nutritional Information
Per serving - 305 calories, 7 g fat (20% calories from fat), 10 g protein, 52 g carbohydrate, 6 g fiber, 0 mg cholesterol, 452 mg sodium
---
Related Recipes