Serves: 8 | Prep Time: 25 minutes | Cook Time: 45 minutes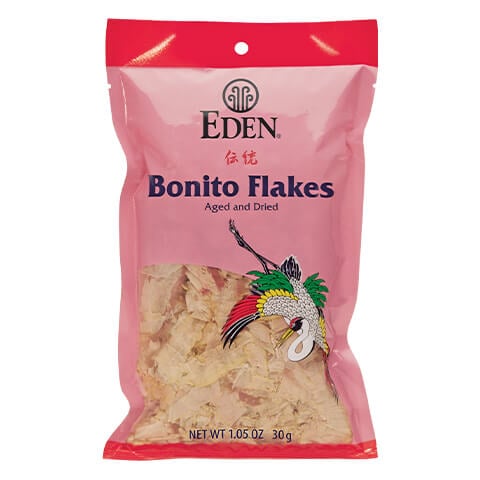 Directions
Preheat oven to 350°. Heat oil in a large skillet and sauté the garlic and onions for 5 minutes. Remove and set aside.

Place the Edensoy, water, flour, sea salt, and pepper in a blender. Pulse several seconds to blend. Add the parsley and mix with a spoon.

Lightly oil a 13" x 9" baking dish with a little olive oil. Place one third of the potatoes in the baking dish. Spread one-half of the onions and garlic over the potatoes. Crumble half of the bonito flakes on top. Place another third of the potatoes on top of the onions and bonito. Spread the remaining half of the onion mixture on the potatoes and sprinkle the remaining bonito flakes on top. Place the remaining potatoes on top. Pour the soy milk mixture evenly over the potatoes. Sprinkle the paprika evenly over the top layer of potatoes. Cover the baking dish and bake for 35 to 40 minutes or until the potatoes are tender. The last 5 minutes or so you can remove the cover and brown the top of the potatoes, if desired.
---
Nutritional Information
Per serving - 182 calories, 5 g fat (24% calories from fat), 6 g protein, 29 g carbohydrate, 300 g fiber, 0 mg cholesterol, 270 mg sodium
---
Related Recipes