Serves: 40 | Prep Time: 10 minutes | Cook Time: 10 minutes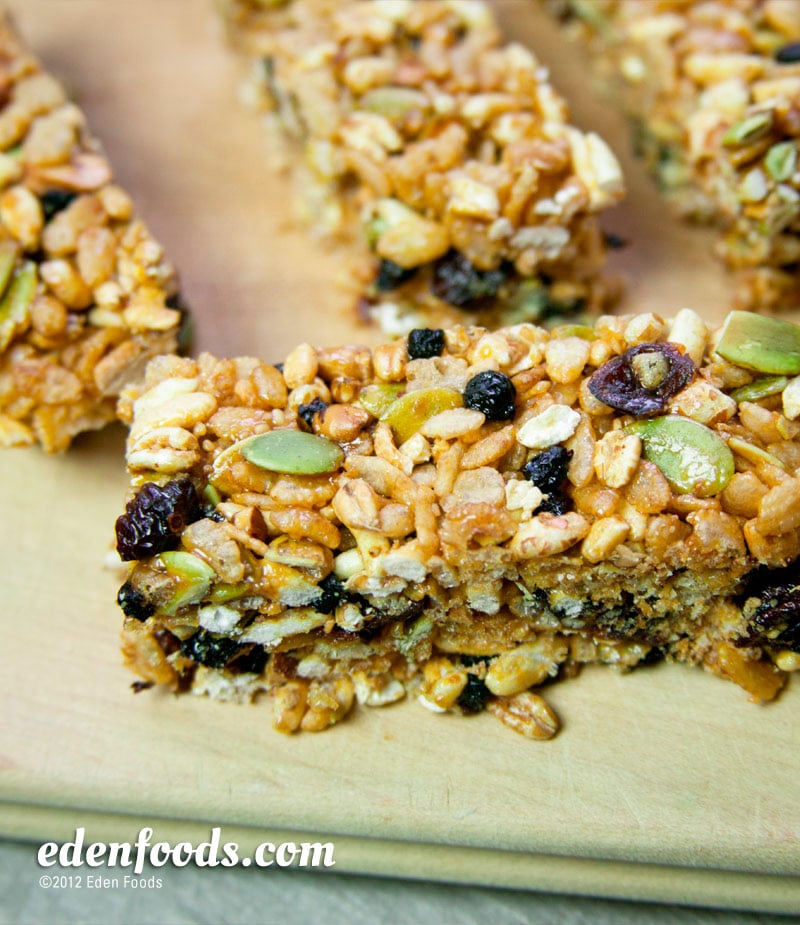 Directions
Mix all dry ingredients and cherries together in a large mixing bowl and set aside. Place the syrups and nut or seed butter in a medium saucepan. Bring to a boil, stirring constantly. Reduce the heat to medium, and continue stirring for about 10 minutes until the mixture does not drip off the spoon easily.

Quickly pour the syrup mixture over the dry ingredients and mix well until all dry ingredients are evenly coated with the syrup. Take two 13" X 9" baking dishes and lightly moisten with water. Place half of the mixture in each dish. Moisten your hands with cold water and firmly press the grain mixture down evenly in the dishes until firm. Place in the freezer for 10 minutes to harden. Cut into bars or squares and enjoy!

The bars may be individually wrapped and kept in the freezer to store. Remove when ready to eat. They will thaw out quickly. Great for camping, hiking trips or just a nutritious snack anytime.

Variation: After mixing the syrup with the grain, seed and fruit mixture try baking them in a 350° oven for 3 to 5 minutes for a crispier treat.

For those with allergies to nuts, roasted seeds can be substituted and nut butter may be omitted from the recipe, or use Sesame Tahini or Black Sesame Butter instead.
---
Nutritional Information
Per serving - 117 calories, 4 g fat (32% calories from fat), 3 g protein, 17 g carbohydrate, 2 g fiber, 0 mg cholesterol, 33 mg sodium
---
Related Recipes