Serves: 4 | Prep Time: 10 minutes | Cook Time: 15 minutes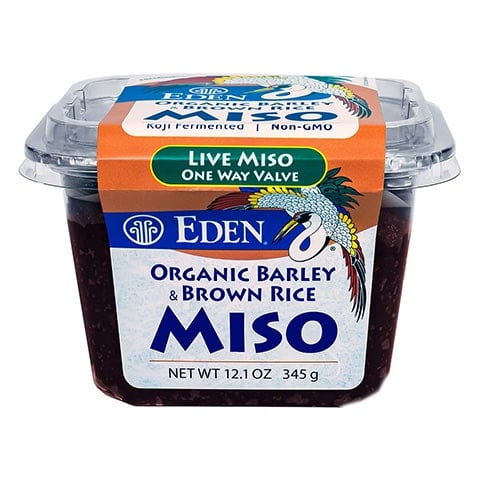 Directions
Slice eggplants in half and submerge in cold water for 5 minutes to remove bitterness. Remove and pat dry with paper towels.

Using a paring knife, score around the edges of the eggplant flesh being careful not to cut through the skin. Next, score the flesh of the eggplant in a criss-cross pattern (XXX) being careful not to cut the skin.

Oil a heavy skillet, heat and place the eggplant cut side down in the hot skillet. Pan fry about 4 to 5 minutes until golden brown. Flip over, cover skillet, and cook another 3 to 4 minutes until the eggplant is cooked through.

Prepare the glaze by mixing the miso, mirin, water, and maple syrup together. Squeeze out ginger juice into the miso and mix thoroughly.

Line a baking sheet with foil. Place the eggplant cut side up on the foil. Liberally brush each eggplant half with miso glaze. Broil 4 to 5 minutes until the glaze starts to bubble, being careful not to burn. Remove from oven, place on a serving platter and garnish with toasted sesame seeds.

Variation: Minced garlic can be substituted for ginger juice.
---
Nutritional Information
Per serving - 181 calories, 8 g fat (39% calories from fat), 5 g protein, 24 g carbohydrate, 6 g fiber, 0 mg cholesterol, 678 mg sodium
---
Related Recipes