Serves: 24 | Prep Time: 20 minutes | Cook Time: 45 minutes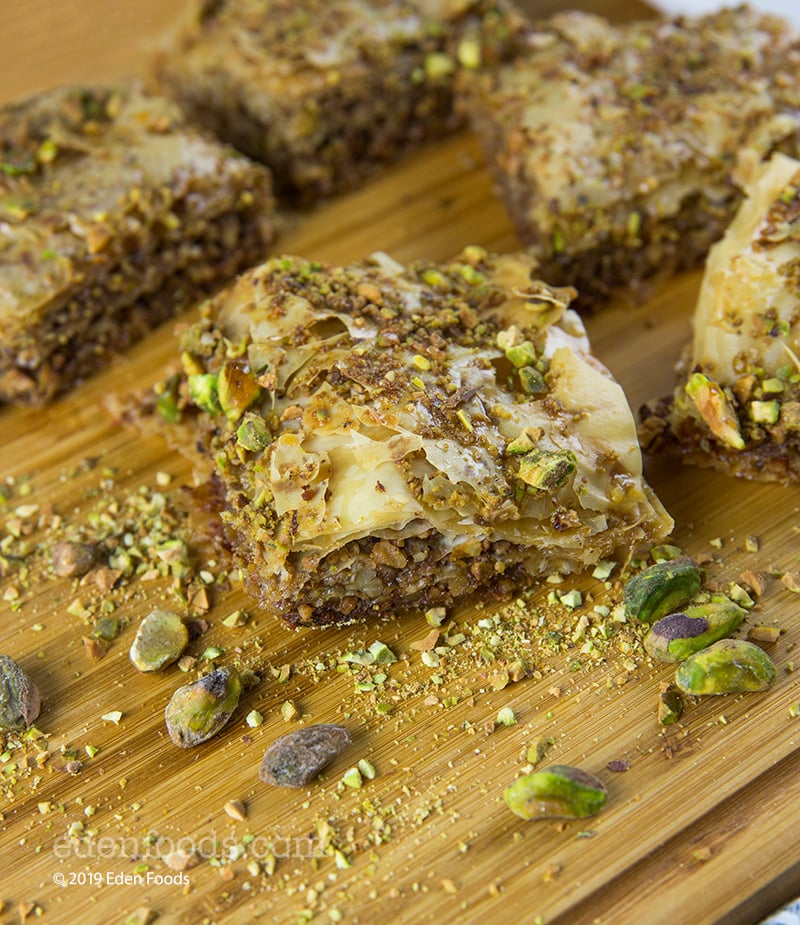 Directions
Preheat oven to 325° F. Place the pecans, almonds, pistachios, cinnamon, orange zest and lemon zest in a food processor and pulse until finely chopped but with some coarsely groud nuts as well. Bring the maple syrup, honey and orange juice to a boil in a small saucepan. Reduce heat and simmer about 10 minutes.

Line a baking sheet with baking paper. Place 2 to 3 sheets phyllo dough on top of the baking paper. Using a pastry brush, brush each sheet with olive oil. Sprinkle a handful or so of nut mixture over the top sheet. Drizzle 3 or 4 tablespoons of syrup over the nuts. Place another 2 or 3 sheets of phyllo on top of the nuts, oiling the sheets. Repeat layering with nuts and drizzling with syrup ending with an uncovered top sheet of phyllo. Reserve enough syrup and nuts for the last layer and set aside. Brush the top phyllo sheet with oil.

Cut the layered sheets into 2 inch squares or triangles. Hold down the sheets gently with one hand while cutting with the other being careful not to disrupt the layers.

Bake for about 30 minutes. Turn the heat up to 350° F. Remove the bakalava and sprinkle the remaining nuts on top. Drizzle all of the remaining syrup over the nuts. Place back in the oven and bake another 10 to 15 minutes until slightly browned. Remove and let cool.
---
Nutritional Information
Per serving - 251 calories, 16 g fat (62% calories from fat), 4 g protein, 18 g carbohydrate, 2 g fiber, 0 mg cholesterol, 100 mg sodium
---
Related Recipes