14 May 2007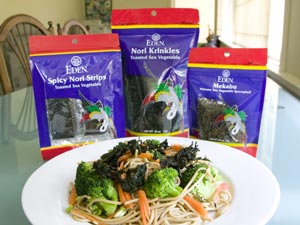 Clinton, Michigan - Eden Foods has expanded its line of quality Japanese Sea Vegetables with three new varieties, Mekabu Wakame, Toasted Nori Krinkles and Spicy Nori Strips.
Eden Mekabu ~ Wakame Sporophyll is the ruffled, flowering sprout of wakame seaweed Undaria pinnatifids located just above the root. It is wild grown and hand harvested from the environmentally protected Ise (ee-say) Bay in the central eastern region of Honshu island, Japan. After harvest is it cleaned, sun dried, misted with pure water, shredded, and dried again. Highly valued for its beneficial compounds such as fucoidan, a polysaccharide that gives mekabu its unique texture. Soak for ten minutes in hot water and two minutes in cold. Drain and enjoy. Very low sodium.
Eden Toasted Nori Krinkles are made from one species of nori, Porphyra yezoensis. It is cultivated off the shores of Ise Bay. The nori is carefully dried, cut into thin strips, and finished to crispy perfection by a final drying system using hot air and steam. A fantastic snack and condiment, Eden Nori Krinkles are mild and sweet, ready to eat and to garnish grains, noodles, and salads. Traditionally they are sprinkled over rice and used in miso soup. They are very low sodium and a good source of vitamin C and trace minerals.
Eden Spicy Nori Strips are deliciously seasoned nori Porphyra tenera strips of 1.25 inches by 3.5 inches. The lustrous sun dried nori sheets are oven toasted, lightly seasoned, and cut into small strips. Organic shoyu soy sauce, organic mirin rice cooking wine, barley malt syrup, sea salt, kombu, shiitake mushroom, and chili pepper seasoning create a taste sensation of savory, salty, sweet, and spicy. Ready to eat and wrapped five to a packet, fifty in a package, they are a tasty snack and great for rice balls, quick miso soup, bite sized sushi, and as a garnish with grains, noodles, and salads. Very low sodium. A most healthful and convenient snack.
Eden Japanese Sea Vegetables are cultivated or wild harvested in pristine, environmentally protected seas. They are continuously fed and cleansed by Arctic currents, collected off shores that are protected as national natural treasures.
Eden is the only brand in North America offering a full line of Sea Vegetables exclusively from Japan. Eden frequently visits each area where these sea vegetables are grown and prepared by local crafts people carrying on centuries old traditions. Japanese traditional sea vegetables are world renowned for their premium quality, pleasant textures, superior flavor, and remarkable nutritional content.
Such high quality sea vegetables are so nutritious because of their ideal growing conditions where they have ready access to an abundance of nutrients. As a result these sea vegetables concentrate minerals and other nutrients at levels rarely found in land plants. They hold high quality calcium, iron, potassium, zinc, magnesium, and all trace minerals plus vitamins A, B-complex, C, D, E, and K.
Current interest in the medicinal value of sea vegetables began in 1927 when Professor S. Kondo of Tohoku University discovered that Japanese people living in areas where sea vegetables were eaten regularly enjoyed especially long and healthy lives. Since then, scientists have discovered that sea vegetables have unique antioxidant and cleansing qualities, and may also help to promote a healthy immune system.
There are 12 varieties of Eden Japanese Sea Vegetables. Nine are

kosher pareve. More information on sea vegetables, including free recipes, can be found at www.edenfoods.com.
---
Eden means no irradiation, no preservatives, no chemical additives, no food colorings, no refined sugars, no genetically engineered ingredients; just the safest, most nutritious, certified organically grown food that can be found. More than 260 Eden foods are available at discerning retailers in the U.S.A. and Canada. For more information, or if you would like our email for press releases, please call 800 248-0320, email us at cs@edenfoods.com or visit www.edenfoods.com. Retailers and Co-ops please go to access.edenfoods.com.