18 January 2007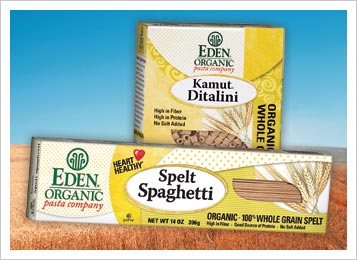 Clinton, Michigan - During the month of January, Eden Foods will complete its conversion of all Eden Organic Pasta packages from bags to NEW reclosable boxes, and two new whole grain pastas have been added.
New Eden Organic Pasta Boxes are recycled and recyclable. Each features a unique recipe from Eden's kitchen with a photo of the prepared dish. The Eden Organic Pasta Company's crew and story are highlighted on each box and a window on the front shows the actual pasta within. There is no change in price, ingredients, UPC code, or nutritional composition of any Eden Organic Pasta; only the packaging has been updated.
In addition, two NEW whole grain pastas have been added: Eden Organic Kamut® Ditalini, small tubes with ridges made from Montana high plains family farm organic kamut; and Eden Organic Spelt Spaghetti made from spelt that is organically grown in Michigan's thumb by brothers Jeff and Steve Booms. These new pastas are 100 percent whole grain, heart healthy and an excellent source of fiber. Kamut and Spelt are both non-hybridized 'ancient' grains which, due to their highly water soluble gluten, can often be enjoyed by those with sensitivities to modern wheat.
Eden Organic Pasta is made from Eden selected organically grown grain: Golden Amber Durum Wheat, Hard Red Spring Wheat, Kamut, Spelt, Short Grain Brown Rice, Buckwheat, and Rye from North American family farms and whole grain Quinoa from small family plots high, over 11,000 feet, in the Andes mountains of Ecuador. The grain is freshly ground at Eden's Clinton, Michigan AIB Superior rated certified organic mill. Sifted durum and semolina flours are prepared at a certified organic mill in North Dakota from Eden selected grain.
Eden Pasta is traditionally crafted in small batches at the Eden Organic Pasta Company in Detroit, Michigan. The dough is thoroughly kneaded with purified water and in some varieties, organic herbs and vegetables. Shapes and spaghetti are extruded using vintage pasta dies. For ribbons or 'noodle' pastas the dough is rolled out and folded over itself eight times before cutting. Slow, steam/air drying finishes Eden Pasta perfectly before it is boxed. Each patient step helps create superb texture and flavor.
An historical landmark since 1923, the Eden Organic Pasta Company is a gem with its original fixtures like artisan brass dies, noodle rollers, and macaroni dryers. Best of all are its people who care: Bud • Cathy • Jeridine • Jim • Maryanne • Odess • Peter • Robert • Rosanne • Steve • Tasha and Terry. At www.edenpasta.com you can meet them all, read a history of the Eden Organic Pasta Company and find all of the pictured recipes from the new pasta boxes.
Eden Organic Pasta comes in three color-coded varieties depending on the percentage of whole grain each contains:
The most nutritious E

den

Organic Pastas are 100% Whole Grain and packaged in GOLD boxes. These provide an easy and delicious way to prepare and enjoy the full, heart healthy benefits of a variety of whole grains.
60% Whole Grain E

den

Organic Pastas are packaged in BLUE boxes. The blending of whole durum wheat and patent durum wheat flour or semolina gives them a lighter texture with superb, heart healthy nourishment.
For those who desire the lightest textured organic pasta, Eden offers several non whole grain pastas made from the highest quality patent durum flour and semolina. These are packaged in GREEN boxes.
Twenty-five SKUs in all, Eden Organic Pasta is OCIA certified organic and

kosher pareve. Suggested retail prices are from $2.19 to $3.45.
---
Eden means no irradiation, no preservatives, no chemical additives, no food colorings, no refined sugars, no genetically engineered ingredients; just the safest, most nutritious, certified organically grown food that can be found. More than 260 Eden foods are available at discerning retailers in the U.S.A. and Canada. For more information, or if you would like our email for press releases, please call 800 248-0320, email us at cs@edenfoods.com or visit www.edenfoods.com. Retailers and Co-ops please go to access.edenfoods.com.