27 January 2000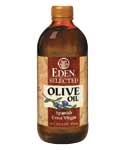 Eden Extra Virgin Spanish Olive Oil is Prevention Magazine's All Around Best Buy, rating the highest in flavor and protective nutrients out of the 22 brands of extra virgin olive oil studied. (Prevention Magazine, September 1999).
Olive Oil scored above all others at a taste test held at the Rodale Food Center and conducted according to the standards of the International Olive Oil Council based in Madrid, Spain. The tasters praised Eden for its "Zesty, buttery, assertive taste."
Eden Olive Oil also scored highest in a thorough comparison of nutritional value. The laboratory measured percentages of oleic acid and squalene, essential fatty acids shown to reduce risks of types of cancer. The ratio of oleic to linoleic acid was also compared. Research indicates that a higher oleic/lower linoleic ratio is most protective. Comparing price-per-ounce of the best oils, Eden was shown to be an exceptional value, scoring higher than all pricier oils.
Eden Olive Oil comes from centuries-old, family run olive groves in Northeastern Spain, a mountainous region known for producing the world's finest olives.
A blend of green and black olives is hand selected, ground, and pressed using ancient methods that assure the highest quality. Only the first pressing of these olives becomes Eden Olive Oil. It is bottled in amber glass, which best protects nutrients, flavor, color, and bouquet from ambient light caused photo-oxidation.
Eden Olive Oil is certified kosher

.
---
Eden means no irradiation, no preservatives, no chemical additives, no food colorings, no refined sugars, no genetically engineered ingredients; just the safest, most nutritious, certified organically grown food that can be found. More than 260 Eden foods are available at discerning retailers in the U.S.A. and Canada. For more information, or if you would like our email for press releases, please call 800 248-0320, email us at cs@edenfoods.com or visit www.edenfoods.com. Retailers and Co-ops please go to access.edenfoods.com.