9 May 2005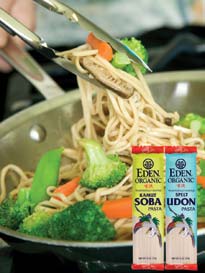 Clinton, Michigan - Eden Foods expands its line of the traditional Japanese noodles, soba and udon, with new Organic Kamut Soba and Organic Spelt Udon. They are made with stone ground, North American family farm grain using simple yet exacting techniques handed down through centuries.
Seven certified organic Eden sobas and udons made with Canadian and U.S. organic grain are crafted at the Sobaya Company, an Eden Canadian Company and North America's only certified organic, traditional Japanese pasta making plant. These pastas are sold under the Eden brand in the U.S.A., and under the Sobaya brand name in Canada.
The grain is freshly stone ground for each production run. The flour is thoroughly kneaded with pure water and a bit of Eden Sea Salt that helps to bind the dough, enhances the flavor, and naturally preserves the finished pasta. The dough is rested for several hours, an essential step in creating the al dente texture. When ready it is repeatedly laminated by folding and rolling it together gradually down to size, before its final cutting into shape. The long strands are lifted onto racks and rolled into the drying room. They are dried slowly for up to two days depending upon thickness, temperature, and humidity. Constantly monitored until ready, they're hand cut, weighed, and packed.
Eden Organic Kamut Soba is made with 80% kamut and 20% buckwheat. It is a good source of fiber, protein, thiamin (B1), niacin (B3), iron, and zinc. It is the traditional soba shape with thickness similar to spaghetti.
Eden Organic Spelt Udon is made of 100% stone ground spelt. It is an excellent source of magnesium and thiamin (B1), and a good source of protein, niacin (B3), and zinc. It is the traditional udon shape, similar to linguini.
Kamut ( Triticum turanicum, or T. turgidum ) is the Egyptian word for wheat meaning 'soul of the Earth'. It originated over 6,000 years ago in the Nile Valley and is often referred to as 'King Tut's Grain'. Kamut is a distant relative of durum wheat with golden kernels about three times the size of modern wheat berries. The International Food Allergy Association (IFAA) says, "For most wheat sensitive people, Kamut grain can be an excellent substitute for common wheat."
Spelt ( Triticum spelta ) is another ancient and distant cousin of modern wheat. One of the first grains to be cultivated in Europe, it thrived in the Mediterranean more than 9,000 years ago and is mentioned in Exodus and Ezekiel in the Bible. Spelt is one of the few non hybridized grains available today. Though it's classified as a red wheat, many people with wheat intolerances find they can eat spelt with no problem. Its fiber is very water soluble, and spelt is easy to assimilate. The twelfth century healer St. Hildegard wrote about spelt, "It produces a strong body and healthy blood for those who eat it and it makes the spirit of man light and cheerful."
Soba means buckwheat in Japanese, and buckwheat ( Fagopyrum esculentum ) is the essential part of a soba noodle. Though it's not a wheat or cereal grain, and in fact is gluten free, buckwheat's amino acid composition is superior to all cereal grain and is rich in lysine, an amino acid that's rare in other grain. Buckwheat is excellent for stabilizing blood sugar, and is Nature's best source of rutin, a vitamin C complex flavonoid that strengthens capillaries.
Each Eden Organic soba and udon is low sodium, low fat, certified organic and

kosher. Each comes in an 8 oz. package, 12 to a case, and is also available in bulk 10 lb. boxes. Suggested retail is $2.89.
---
Eden means no irradiation, no preservatives, no chemical additives, no food colorings, no refined sugars, no genetically engineered ingredients; just the safest, most nutritious, certified organically grown food that can be found. More than 260 Eden foods are available at discerning retailers in the U.S.A. and Canada. For more information, or if you would like our email for press releases, please call 800 248-0320, email us at cs@edenfoods.com or visit www.edenfoods.com. Retailers and Co-ops please go to access.edenfoods.com.