21 January 2000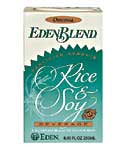 Edenblend Organic Rice & Soy beverage is now available in 250 milliliter / 8.45 ounce drink boxes, fulfilling many customers' requests.
The new size adds to our selection of convenient, go-anywhere nourishment. Edensoy and Edensoy EXTRA have been popular in this size for years. Each is also available in the original 1 liter/33.8 ounce aseptic cartons.
The Edenblend drink box looks like a miniature of the 1 liter version. It features earthy beige and green tones, the words 'Rice & Soy,' and an illustration of soybean and rice stalks growing intertwined. A straw is attached to each box. Like the liters, they require no refrigeration and are good for one year before opening. Ideal for camping, office, school, single servings … anywhere.
Edenblend is soy milk blended with amazake, a sweet, traditional porridge made of koji fermented brown rice. Our soybeans and rice are organically grown on family farms, in rich, vital soil and clean water. Beans and grains blended together offer a whole spectrum of building blocks for complete nourishment. Edenblend meets the protein requirement for the FDA's new soy health claim.
Edenblend is prepared at North America's largest certified organic aseptic food plant, using the most technologically advanced methods that preserve nutrients and provide consistently satisfying, safe food.
Edenblend is made from purified water, Lundberg Organic Brown Rice, Organic Soybeans, a bit of Kombu Seaweed, Carrageenan, and Sea Salt. Others may be made with refined salt and sugar, chemically refined powdered rice and soy, and ingredients which may be genetically engineered (GEOs). The Eden brand is your assurance that it is GEO free, backed by our direct relationships with all growers, in-house testing of each batch of soybeans, third party testing, our meticulous audit trail, and the highest quality standards. Edenblend, Edensoy, and Edensoy EXTRA are Kosher parve

.
---
Eden means no irradiation, no preservatives, no chemical additives, no food colorings, no refined sugars, no genetically engineered ingredients; just the safest, most nutritious, certified organically grown food that can be found. More than 260 Eden foods are available at discerning retailers in the U.S.A. and Canada. For more information, or if you would like our email for press releases, please call 800 248-0320, email us at cs@edenfoods.com or visit www.edenfoods.com. Retailers and Co-ops please go to access.edenfoods.com.