8 April 2004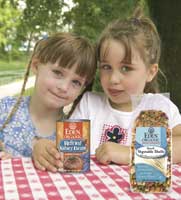 Clinton, Michigan - After tasting and comparing hundreds of foods at the trade show Natural Products Expo East in Baltimore, Maryland in October 2003, a panel of children and their parents rated Eden Organic Pasta and Eden Organic Refried Beans as favorites.
Findings of the taste test and product comparison, sponsored by Child Magazine, were reported in the article, "50 Healthiest Convenience Foods for Families ... incredible new products that will save you hours in the kitchen" (Child February 2004 issue).
Eden Organic Refried Kidney Beans were favored for their high nutrition, great flavor, and convenience by Child Magazine's child and parent tasters. "Many brands of refried beans go heavy on the fat and sodium," Child explains, "but Eden's dark red kidney beans have just 1g of fat and 180mg of sodium per half cup and plenty of fiber and potassium ..." Eden Organic Beans are family farm organically grown, expertly prepared,

kosher certified beans. Twenty-three varieties in all; 12 with no salt added, 5 seasoned and ready to eat, and 6 refried beans. All are high in, or an excellent source of fiber and provide a wealth of vitamins, minerals, micronutrients and antioxidants. Four of them meet the FDA label criteria "Promotes Cardiovascular Health" for foods that are high in potassium and low in fat and sodium. Eden Organic Black Soybeans are low in carbohydrates and also "Promotes Cardiovascular Health" by containing 11 grams of soy protein per serving. Cooks of all ages love Eden Organic Beans for their flavor, versatility and ease.
Eden Organic Small Vegetable Shells were lauded for their nourishment and great appeal to children and parents alike. "Sixty percent of the flour in these brightly colored mini shells is whole grain, so they pack plenty of fiber (4 grams per cooked cup) without the dense texture that usually turns kids off from whole wheat pasta," Child said. Eden Organic Pasta offers Whole Grain Golden Amber Durum Wheat, Hard Red Spring Wheat, Kamut®, Quinoa, Spelt, Brown Rice, Rye, and Buckwheat, in multiple combinations, shapes, and colors. Family farm organically grown grain, small batch milled and hand crafted at the Eden Organic Pasta Company, kosher certified. Such high quality whole grain food may help to prevent diabetes, heart disease, and cancer; aid weight loss and help people to maintain healthy weight. Those who are watching their intake of refined ('bad') carbohydrates are happy to discover that Eden Organic Pastas are made up of the 'good carbs', complex carbohydrates that break down slowly and provide long lasting energy. Each Eden Pasta is high in fiber, the internal natural cleanser that can help lower LDL cholesterol and blood pressure, and each contains a higher daily value of protein than carbohydrate, plus a wealth of vitamins, trace minerals, and antioxidants. In contrast, commercial pasta that lacks whole grain contains lower daily value of protein than carbohydrate and almost zero phyto-nutrients. Thirty-five Eden Organic Pastas in all, 25 meet FDA label criteria "Promotes Cardiovascular Health" for foods that are 50 to 100% whole grain and low in fat and sodium.
Eden makes it easy for busy people and families to create quick and easy, wholesome meals. Start with any Eden Organic Pasta, add Eden Organic Spaghetti Sauce, Tomatoes, plus your favorite vegetables. Add a side of Eden Organic Beans for more great taste, protein, and antioxidants. Or make Eden Beans the meal's focal point. Mix and match whole beans for soup, salad, chili ... Open a can of Eden Refried Beans and create nachos, tacos, burritos, Mexican casseroles ... Visit www.edenfoods.com for 800 free recipes and knowledge.
---
Eden means no irradiation, no preservatives, no chemical additives, no food colorings, no refined sugars, no genetically engineered ingredients; just the safest, most nutritious, certified organically grown food that can be found. More than 260 Eden foods are available at discerning retailers in the U.S.A. and Canada. For more information, or if you would like our email for press releases, please call 800 248-0320, email us at cs@edenfoods.com or visit www.edenfoods.com. Retailers and Co-ops please go to access.edenfoods.com.