21 January 2000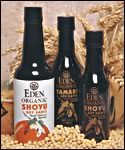 Clinton, Michigan - Eden Foods adds to its line of traditionally made fruit with NEW Dried Montmorency Tart Cherries, a heart healthy treat infused with Eden organic apple juice concentrate. No refined sugar or sulfites added.
Eden Traditionally Brewed Shoyu was the highest rated and only 'Highly Recommended' brand in two comparisons of 12 soy sauces by Cook's Illustrated Magazine, as reported in its January/February 2000 issue.
"Tasters decisively ranked this 'distinct' soy sauce number one in both taste tests," the authors said. "The flavor was 'toasty, caramel-y, and complex,' not wimpy. Rich, clean, and balanced, with 'vivid' flavor. The salt flavor was tangible but not overpowering." Eden Organic Traditionally Brewed Tamari was also recommended, described as "Very savory, rounded and smooth. A solid finish in both taste tests."
The tasting panel consisted of Jean Chan of Nancy's Cafe in Brookline, Massachusetts, Barry Chui and Rebecca Li of Yokohama in Brookline, Massachusetts, and Cook's Illustrated staff. Each sauce was rated on "favorability," intensity of overall flavor, quality of salt flavor, and overall likability when used both alone and in cooking. Eden was the decisive favorite in both categories.
Eden Traditionally Brewed Shoyu is made in Japan by master artisans skilled in the ancient method of koji fermentation, a complex process using koji inoculated whole soybeans and wheat, careful tending, and aging in cedar casks through two seasonal cycles. Eden Traditionally Brewed Tamari is similarly crafted, without wheat. While tamari imparts its own flavor, shoyu harmonizes, blends, and enhances. Eden Shoyu and Tamari are the real thing, popular for centuries. Choose wisely, as commercial soy sauces may be made from hexane extraction, genetically engineered enzymes, refined sugar, refined salt, and caramel color.
Eden brand soy sauces are available in 5 ounce, 10 ounce, and 20 ounce bottles, 4.75 gallon and 55 gallon bulk. Our 10 ounce bottle is amber glass to best protect flavor and bouquet. Our 5 ounce bottle is designed for table use and refilling, with a mess free, silkscreened design. These sizes each have a functional dispenser cap that delivers 'drops' or 'pours' as you desire. All are Kosher parve

.
Cook's Illustrated is an independent publication that is not affiliated with Eden Foods and does not endorse products.
---
Eden means no irradiation, no preservatives, no chemical additives, no food colorings, no refined sugars, no genetically engineered ingredients; just the safest, most nutritious, certified organically grown food that can be found. More than 260 Eden foods are available at discerning retailers in the U.S.A. and Canada. For more information, or if you would like our email for press releases, please call 800 248-0320, email us at cs@edenfoods.com or visit www.edenfoods.com. Retailers and Co-ops please go to access.edenfoods.com.