28 October 2014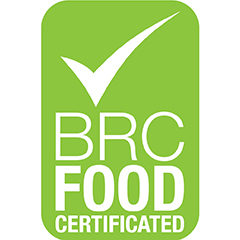 Eaton, Indiana – Meridian Foods has earned certification for compliance with the British Retail Consortium (BRC), a prestigious Global Food Safety Initiative (GFSI) benchmarked food safety standard. Meeting the requirements of the BRC Global Standard for Food Safety within the scope of thermally processed and hermetically sealed canned vegetables, specifically beans, refried beans, rice & beans, and bean & whole grain chili, demonstrates that Meridian Foods functions at the highest level of food safety and quality production.
Meridian Foods' first day of commercial production of canned beans was Tuesday September 29, 1964. Consistently, for 50 years now, Meridian has maintained the reputation for the best 'fill and finish' in the bean canning industry. In 1991, with Eden Foods guidance, Meridian's production facilities received organic certification by the Organic Crop Improvement Association (OCIA). Organic certification has been maintained ever since.
In autumn 1994 Eden Foods, a natural and organic food manufacturer founded in 1968 and based in Michigan, purchased Meridian Foods from the California Bean Growers Association. Today, Meridian produces 25 varieties of canned organic EDEN beans, seasoned, refried, rice & beans, and bean & whole grain chilies. Meridian also serves as a private label canned bean manufacturer for a small number of other brands. Meridian Foods is also

kosher certified and offers gluten free processing.
Ms. Katie Henry, Meridian's Quality Assurance Manager said, "It (BRC certification) has been an arduous, gratifying journey, one that I am beyond grateful to have the opportunity to continue on every day. I look forward to what this brings to the future of food safety and quality at Meridian and Eden alike. It is no secret that Eden Foods is a principled pure food company trying to improve the nurturing of all people on the planet. I match their passion in zeal for the safety of the food we produce."
BRC Global Standard is a leading safety and quality certification program for the food and beverage sector, used by over 21,000 certified suppliers in 123 countries, with certification issued through a worldwide network of accredited certifying bodies. Developed by packaging and product safety experts in 1998, the BRC Global Standard is based on the Hazard Analysis and Critical Control Points (HACCP) food safety management plan and Good Manufacturing Practices (GMP). The BRC Global Standard is divided into seven areas: Senior Management Commitment and Continual Improvement, The Food Safety Plan, Food Safety and Quality Management System, Site Standards, Product Control, Process Control, and Personnel. The Standards guarantee uniformity of quality, safety, and operational criteria, and ensures that manufacturers fulfill their legal obligations and provide protection to the consumer. BRC Global Standards are commonly considered a fundamental requirement of food manufacturers for leading retailers in Europe and in North America.
Meridian Foods' newly refurbished canning facility employs 43 workers who are each aware of their role in maintaining the fine quality reputation that Meridian enjoys, and as reflected in achieving BRC certification.
---
Eden Foods is a 46 year principled natural food manufacturer offering more than 400 authentic, organic, traditional, pure foods. All are superb pantry fare. Further information and over 1,125 free recipes are at
www.edenfoods.com
. Retailers, institutions, and co-ops, please visit us at
access.edenfoods.com
.